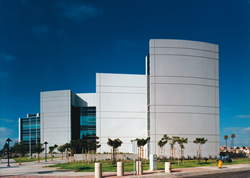 The Garden Grove facility provides classrooms for many of University Extended Education's professional development programs. It is centrally located and the parking is free.
Registration
In-person registration is available at the CSUF Garden Grove Center or in Fullerton. (See Fullerton location for address and hours)
Parking
Students who will park at the Fullerton campus (CSUF) in addition to the Garden Grove facility should purchase a CSUF parking permit, which is valid in Garden Grove.
Students who only park at the Garden Grove facility may obtain a parking permit at no charge at the Garden Grove Registration Office. CSUF Garden Grove Center parking permits are not valid at the Fullerton campus.
Overflow parking for Garden Grove can be found in the parking lot directly across from the Garden Grove City Hall at 11222 Acacia Parkway.
Bookstore
Books for Garden Grove Center classes must be purchased from the Titan Bookstore on the Fullerton campus or online via the Titan Bookstore.
Map / Directions