CSUF Irvine Center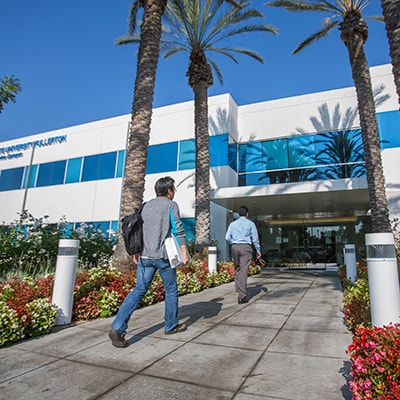 Keeping with our mission of providing programs designed specifically to fit the needs of working professionals, many of our programs are held at Cal State Fullerton's Irvine Center, which is centrally located in the heart of Orange County's thriving business community. This campus benefits from close proximity to the headquarters of top businesses in the Southern California region and from the Irvine Spectrum Center, Orange County's premier dining, shopping, and entertainment location.
This recently renovated campus offers state-of-the-art multimedia classroom tools to support dynamic and interactive learning models. Breakout rooms are available to support team activities and collaborative discussions.
Directions
The Irvine Center is located at 3 Banting, Irvine, near the intersections of the 405 Freeway and the 133 Toll Road, and the 5 Freeway and the 133 Toll Road. We are approximately one mile from the Irvine Spectrum. The Irvine Center offers mass transit advantages, given the readily available bus service and I-Shuttle service.
Parking
Convenient parking is available at the Irvine Center and included with the cost of your program.
Corporate Programs
Cal State Fullerton is able to offer large-group and/or customized programs through our Irvine Center--which may be far more convenient than attending a program at the CSUF main campus. Contact us for more information.