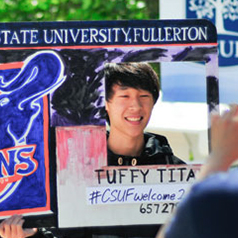 New Students: Freshmen
Congratulations on your admission to California State University, Fullerton! This checklist is for new international freshmen who will begin their first semester at the University. Bookmark this page and visit often to successfully prepare for your first semester at CSUF.
Pre-Semester Start Checklist
Please complete all items before the start of your first semester at CSUF. Many items will have to be completed well before the semester starts, so please read the entire list and prepare early.
Admitted freshmen have until May 1st to accept admission and pay the $250 enrollment deposit. If you are admitted after April 15th, you have two weeks from the date of admission, printed on the admit letter, to accept your admission offer. The deposit will be applied to your first semester registration fees. If you do not submit the Intent to Enroll and pay the deposit, it is assumed that you do not plan to attend CSUF and your space will be made available to another student.
For instructions on how to accept your admission and pay the deposit, visit the Admissions and Records webpage on accepting admission.
Sponsored Students
: To waive the enrollment deposit, submit a copy of your financial guarantee to
International Student Services
and the
Admissions office
and allow a few days for processing. After your paperwork has been processed, you must still accept your admission in the Student Portal.
All new CSUF international freshmen must complete all the steps for the New Student Orientation.
There is a Freshman Orientation fee, which is separate from tuition fees. If you are receiving a scholarship from your home government, check with your sponsor to determine if orientation fees are included in your scholarship.
If you have questions about completing all of the steps for the New Student Orientation, send an email to Titan Orientation Programs at orientation@fullerton.edu.
After you receive your I-20 or DS-2019 from California State University, Fullerton, you can begin the process of applying for your U.S. student visa. Students who received an I-20 can apply for an F-1 visa. Students who received a DS-2019 can apply for a J-1 visa.
Before you apply for a visa, you must first pay the I-901 SEVIS fee. For information on how to apply for a visa and schedule your visa interview, visit the US Department of State's webpage on student visas.
All F-1 and J-1 international students in the U.S. are required to purchase the CSUF International Student Health Insurance plan administered by JCB Insurance Solutions before registering for classes. Visit our health insurance webpage to purchase and learn more.
International students who will study from outside the U.S. for the Spring 2021 semester are not required to purchase the CSUF International Student Insurance plan. To request an exception to the health insurance requirement based on being outside the U.S., please click here.
All new international students are required to complete the ISS Online Immigration Module before they begin their first semester. To complete the module, enroll in the module in Titanium and complete the following:
View the Immigration Overview video and audio presentation

Take the Immigration Quiz and earn a score of 80% or above

Read and submit the International Student Agreement
An ISS Hold on your student account will prevent you from registering for classes until you have completed all the requirements of the module. Once completed, please allow 3-5 business days to remove the ISS Hold from your student account.
As part of the university orientation process, you are required to complete the Not Anymore training on how to stay safe at Cal State Fullerton. Complete this training before arrival in order to avoid disruption of access to your Student Portal (including email, Titanium, and your Student Center). To complete the training, please log in here and enter your campus username and password.
For questions about this training requirement, please contact the Title IX and Gender Equity Office at (657) 278-2121 or send them an email.
Log in your Student Portal, click on Student Center, and note any "To Do List" items.
Submit official transcripts to:
Office of Admissions
P.O. Box 6900
Fullerton, CA 92834
USA
Always include your CWID in all documents or communications.
Arrival Date
All first time freshmen international students must arrive in the U.S. before Freshmen Orientation Date. Failure to attend Freshman Orientation will result in your loss of admission to Cal State Fullerton.
Housing
Students who need assistance in finding housing in the U.S., including temporary accommodations, can review available housing options on the International Housing website.
Documents to Bring
When traveling, make sure you have the following with you at all times. Always pack these items in your carry-on bag, not your checked luggage!
Valid passport with F-1 or J-1 visa

I-20 or DS-2019 signed by school official and by student

Evidence of financial support

Admissions letter from CSUF

Printed I-901 SEVIS fee receipt
Transportation from the Airport to Fullerton
For information about transportation to and from the airport, visit the ISS transportation website. Students should take the shuttle directly to your housing, not to Cal State Fullerton.
Form I-20 Issuance for Spring 2021 Admitted Students
To be issued a CSUF Form I-20, you must accept your CSUF admission offer, submit the New Student Questionnaire and meet the required criteria listed below, following steps 1 and 2.
New students who have never had an "Active" SEVIS record (Form I-20) and are outside the U.S. will be issued a Form I-20 only if enrolled in at least one in-person or hybrid course in the Spring 2021 semester.
New students transferring their SEVIS record (Form I-20) to CSUF will be issued a Form I-20 if currently in the U.S., or if outside the U.S. and enrolled in at least one in-person or hybrid Spring 2021 course.
New students currently attending CSUF or on approved OPT or STEM OPT having graduated from CSUF will be issued a Form I-20. Please note that if you choose to enroll in fully online courses from outside the U.S. for the Spring 2021 semester, ISS may need to make changes to your Form I-20.
Step 1: Submit the following documents to https://uee-file01.fullerton.edu/ using these upload instructions: https://extension.fullerton.edu/international/pdf/iss/how-to-upload-to-iss-server.pdf. Please make sure to include your full name and Campus-wide Identification nuber (CWID) on all documents.
Please do not send your documents by email.
Proof of funding (bank statement or sponsor letter)

Bank statements

Student's name and/or sponsor's name must appear on bank documents and must match name(s) listed in Financial Affidavit.
It must be in English, or show available funds in US Dollars.
Name and address of bank must appear on document(s).
It must be dated within last year of submission.
Bank documents must show minimum amount required based on academic level and major, according to Estimate Cost for one year (see chart on Affidavit).

If sponsored by your home government, please ask sponsor to submit financial scholarship letter directly to ISS.

Copy of your passport
Step 2: Transfer your SEVIS record to CSUF (if applicable)
Whether you will begin your CSUF studies while in the United States or while remaining outside the U.S., please notify the Designated School Official at your current school that you have been admitted to CSUF and request to transfer your SEVIS record to California State University, Fullerton, School Code: LOS214F00210000.
Deadline for Transfer of SEVIS Record: You must transfer your SEVIS record before January 15, 2021 or before the end of your 60-day grace period, whichever date is earlier.
Reminder:
New international students who will remain in the U.S. for Spring 2021 studies must complete the
Virtual New Student Check-In
and the
Virtual New International Student Workshop
(date/time to be announced) before the semester begins. Failure to complete these requirements could negatively impact your F-1 status. Please frequently check ISS website and your CSUF emails for updates.