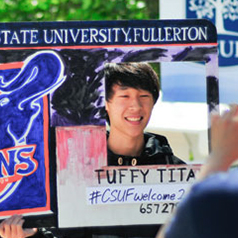 New Students: Freshmen
Congratulations on your admission to California State University, Fullerton! This checklist is for new international freshmen who will begin their first semester at the University. Bookmark this page and visit often to successfully prepare for your first semester at CSUF.
Pre-Semester Start Checklist
Please complete all items before the start of your first semester at CSUF. Many items will have to be completed well before the semester starts, so please read the entire list and prepare early.
Post-Arrival Checklist
The following items need to be completed soon after arriving in the United States/California State University, Fullerton. Many items are date-specific and required to enroll at the University.
Visit the webpage for instructions.
Failure to attend Freshman Orientation will result in your loss of admission to Cal State Fullerton.
Questions?
If you have any questions before or after the semester starts, send us a note and a staff member will get back to you soon.
Contact Us