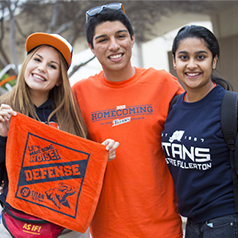 New Students / Graduate Students
New Students: Graduate Students
Congratulations on your admission to California State University, Fullerton! This checklist is for new international graduate students who will begin their first semester at the University. Bookmark this page and visit often to successfully prepare for your first semester at CSUF.
Pre-Semester Start Checklist
Please complete all items before the start of your first semester at CSUF. Many items will have to be completed well before the semester starts, so please read the entire list and prepare early.
Admitted graduate international students must accept admission and pay the $250 enrollment deposit in order to receive their I-20. Please check your admission letter for exact deadlines on when to complete this step. The deposit will be applied to your first semester registration fees. If you do not submit the Intent to Enroll and pay the deposit, it is assumed that you do not plan to attend CSUF and your space will be made available to another student.
For instructions on how to accept your admission and pay the deposit, visit the Admissions webpage.
Sponsored Students
: To waive the enrollment deposit, submit a copy of your financial guarantee to the
International Students & Scholars
and the
Admissions office
and allow a few days for processing. After your paperwork has been processed, you must still accept your admission in the Student Portal.
All F-1 and J-1 international students in the United States are required to purchase the CSUF International Student Insurance plan administered by JCB Insurance Solutions before registering for classes. Visit our health insurance page to purchase and learn more.
International students who will study from outside the U.S. for the Fall 2021 semester are not required to purchase the CSUF International Student Insurance plan. To request an exception to the health insurance requirement based on being outside the U.S., please click here.
All new international students are required to complete the ISS Online Immigration Module before they begin their first semester. To complete the module, enroll in the module in Canvas and complete the following:
View the Immigration Overview video and audio presentation

Take the Immigration Quiz and earn a score of 80% or above

Read and submit the International Student Agreement
An ISS Hold on your student account will prevent you from registering for classes until you have completed all the requirements of the module. Once completed, please allow 3-5 business days to remove the ISS Hold from your student account.
As part of the university orientation process, you are required to complete the Not Anymore training on how to stay safe at Cal State Fullerton. Complete this training before arrival in order to avoid disruption of access to your Student Portal (including email, Titanium, and your Student Center). To complete the training, please log in here and enter your campus username and password.
For questions about this training requirement, please contact the Title IX and Gender Equity Office at (657) 278-2121 or send them an email.
Registration holds are placed when there are items missing that must be submitted before you are allowed to register for a term. They can come from many different departments on campus. All new international students will have an "international student" hold that can be cleared after purchasing health insurance and completing the ISS online immigration module (see previous tabs).
Log in to your Student Portal to note any holds and how to resolve them. You will not be able to register for classes until you clear all your holds.
Graduate students should consult their college or department for specific information on choosing courses that meet their major or degree requirements.
For information on how to add or drop a class in your Student Center, refer to these online instructions.
Visit the Student Business Services website to find information on fees, payment due dates, and how to make payments (including international payments.)
To make a payment, log in to your Student Portal and access Titan Online. After clicking on "Student Center," look under "Finances" for "make a payment." Click on "make a payment" and follow the instructions.
Payment must be for CSUF tuition and campus-based fees only. Payment for health insurance or other living expenses should not be included and must be made separately.
Note: You must first register for classes before paying fees.
Form I-20 Issuance for Fall 2021 Admitted Students
To be issued a CSUF Form I-20, you must accept your CSUF admission offer and complete the steps listed below.

Step 1: Submit the following documents to https://uee-file01.fullerton.edu/ using these upload instructions: https://ueestatic.fullerton.edu/static/ip/pdf/iss/how-to-upload-to-iss-server.pdf. Please make sure to include your full name and Campus-wide Identification number (CWID) on all documents. Please do not send your documents by email.
Proof of funding (bank statement or sponsor letter)

Bank statements

Student's name and/or sponsor's name must appear on bank document and must match name(s) listed in Financial Affidavit.
It must be in English, or show available funds in US Dollars.
Name and address of bank must appear on document(s).
It must be dated within last year of submission.
Bank documents must show minimum amount required based on academic level and major according to Estimate Cost for one year (see chart on Affidavit).

If sponsored by your home government, please ask sponsor to submit financial scholarship letter directly to ISS.

Copy of your passport
Step 2: Transfer your SEVIS record to CSUF (if applicable)
If you currently have an active SEVIS record and are attending another SEVIS-approved school or on approved Optional Practical Training (OPT or STEM OPT Extension), please notify the Designated School Official at your current school that you have been admitted to CSUF and request to transfer your SEVIS record to California State University, Fullerton, School Code: LOS214F00210000.
Deadline for Transfer of SEVIS Record: You must transfer your SEVIS record before August 15, 2021 or before the end of your 60-day grace period, whichever date is earlier.
Reminder:
New international students admitted for Fall 2021 must complete the
Virtual New Student Check-In
and the
Virtual New International Student Workshop
(date/time to be announced) before the semester begins. Failure to complete these requirements could negatively impact your F-1 status. Please frequently check the ISS website and your CSUF emails for updates.