New Students / Transfer Students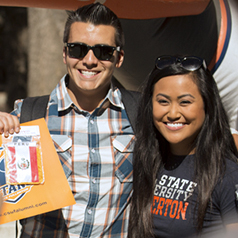 New Students: Transfer Students
Congratulations on your admission to California State University, Fullerton! This checklist is for new international transfer students who will begin their first semester at the University. Bookmark this page and visit often to successfully prepare for your first semester at CSUF.
Pre-Semester Start Checklist
Please complete all items before the start of your first semester at CSUF. Many items will have to be completed well before the semester starts, so please read the entire list and prepare early.
Form I-20 Issuance for Fall 2021 Admitted Students
To be issued a CSUF Form I-20, you must accept your CSUF admission and complete the steps below.
Step 1: Submit the following documents to https://uee-file01.fullerton.edu/ using these upload instructions: https://ueestatic.fullerton.edu/static/ip/pdf/iss/how-to-upload-to-iss-server.pdf
Please make sure to include your full name and Campus-wide Identification number (CWID) on all documents.
Please do not send documents by email.
Proof of funding (bank statement or sponsor letter)

Bank statements

Student's name and/or sponsor's name must appear on bank document and must match name(s) listed in Financial Affidavit.
It must be in English, or show available funds in US Dollars.
Name and address of bank must appear on document(s).
It must be dated within last year of submission.
Bank documents must show minimum amount required based on academic level and major according to Estimate Cost for one year (see chart on Affidavit).

If sponsored by your home government, please ask sponsor to submit financial scholarship letter directly to ISS.

Copy of your passport.
Step 2: Transfer your SEVIS record to CSUF (if applicable)
If you currently have an active SEVIS record and are attending another SEVIS-approved school or on approved Optional Practical Training (OPT or STEM OPT Extension), please notify the Designated School Official at your current school that you have been admitted to CSUF and request to transfer your SEVIS record to California State University, Fullerton, School Code: LOS214F00210000.
Deadline for Transfer of SEVIS Record: You must transfer your SEVIS record before August 15, 2021 or before the end of your 60-day grace period, whichever date is earlier.
Reminder:
New international students admitted for Fall 2021 studies must complete the
Virtual New Student Check-In
and the
Virtual New International Student Workshop
(date/time to be announced) before the semester begins. Failure to complete these requirements could negatively impact your F-1 status. Please frequently check ISS website and your CSUF emails for updates.