Admission requirements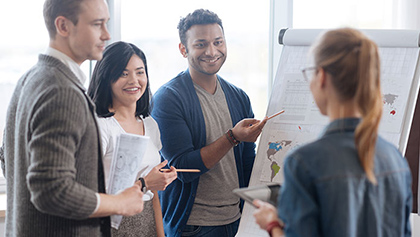 To help ensure your success in the program and beyond, you will need a bachelor's degree from an applicable field, core competency in a few key areas.
To set up a pre-application review of your qualifications, we encourage you to make an appointment with our Faculty Advisor Dr. Xiaoying Xie at xxie@fullerton.edu.
Applicable fields
Applicants should have a degree from one of the following fields. Degrees from other fields may be accepted. If you have a degree from a different, related field, you should contact us or schedule an advising session with our Faculty Advisor Dr. Xiaoying Xie at xxie@fullerton.edu.

Finance

Economics

Mathematics

Engineering

Science

Risk Management and Insurance
Required core competencies
Due to ongoing extraordinary circumstances related to the pandemic, we will waive the GMAT/GRE test score requirement for fall 2021 applicants.
To be successfully admitted into the MS FERM program, a minimum of a B average (GPA of at least 3.0) is required across courses in the final year of study. Students with degrees in business, economics, statistics, mathematics, computer science, engineering or actuarial science are preferred, but other degrees will be considered if there is evidence that the candidate has strong quantitative skills.
One of the following must also be satisfied to be considered for admission:
Option 1: Complete courses in Foundations of Finance, Investments and financial derivatives, Business Calculus and Business Statistics.
Option 2: Demonstrate proficiency through a professional designation and/or work experience in the financial services industry. Or: Pass an industry exam such as CFA, FRM, actuarial exams within the last five years.
Option 3: Score in the 80th percentile on GMAT/GRE and have passed a course in calculus.
Pass a qualifying exam covering the following topics: time value of money, investments, accounting, corporate finance, college algebra, college calculus, probability and statistics.
In addition, candidates must submit:
Resume, statement of purpose (required) and letter(s) of recommendation (optional)
For international students, a minimum TOEFL score of 550 on the paper exam, or a score of 80 on the internet based (iBT) is required
International student requirements
There are language requirements for international students. To view minimum language proficiency, please visit the CBE Admission Requirements for Graduate Programs page .
How to apply
Applications open in the fall. You can view application instructions and dates, or start your application, on our Apply page. If you would like to receive application updates, join our email list below.
What's your next step?
Learn about the program schedule or receive a FERM Program Guide by joining the email list. By joining the FERM list you will also receive program and application updates.
Program Schedule

The 12-month FERM program is one of the fastest ways to earn your advanced degree. Get details on the classes you will be taking every semester.