Program schedule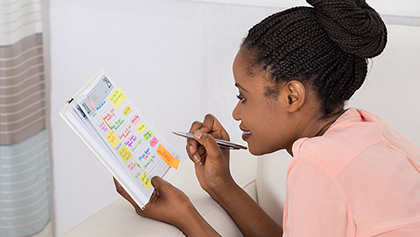 The MS in Financial Engineering & Risk Management is a three semester, on-campus degree program. The program consists of 30 units (10 courses) to be completed over 12 months.
There are nine requirement courses and a final, semester-long capstone research project. In the capstone project, you will work on a real-world business problem based on your interests and career goals, and then set out to use everything you have learned along the way to create a solution.
By the time you are done, the work you have completed on your capstone project could make the transition into your chosen career feel like the next logical step.
Course schedule and descriptions
You will take four courses in the fall, four courses in the spring and two courses over summer. This will allow you to graduate in less than a year after you entered the program.
- Click on course title to see class description -

Fall

Spring

Summer
Finance 528: Financial Economics

Finance 597 (capstone project)
What's your next step?
Learn about the application process or receive a FERM Program Guide by joining the email list. By joining the list you will also receive program and application updates.
Apply

Applications open in the fall. To learn more about applying, or start your application, visit our Apply page.