Finding Success with an Online HSS Degree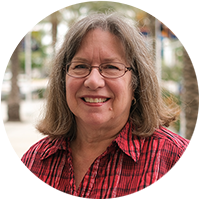 Dr. Barbra Erickson
CSUF Professor
Online BA in Humanities & Social Sciences Program
Dr. Barbra Erickson is an anthropology professor in California State University, Fullerton's Online BA in HSS Program. We asked Dr. Erickson why she loves online classes, how to succeed as an online student, career paths for HSS graduates and more.
---
What are the benefits of online learning?
Online learning has the obvious advantage of allowing students to fit classwork around the many demands of work and family life. Living in southern California, traffic and commute time to a university for "live" classes can also be a formidable challenge. When online classes first became available, some people — including me, actually — used to think that taking a class online would be too impersonal, too sterile. However, with so many new technologies available today, online classes can be rich with visuals, films, interactive activities, group work and discussion. As a professor, I have found that I can have just as much interaction with students as I do in a regular classroom, and I have grown to love online teaching.
What is it like to be in an online degree completion program?
I am a huge fan of online degree completion programs. To explain why, I would like to share my daughter's experience. She grew up here in Fullerton, and after high school earned an AA degree at Fullerton College. She thought that was all she would need, moved away from Southern California, and went on to have several good long-term jobs in the real estate and insurance industries. However, she reached a point where she wanted to advance her career; a major obstacle was that the positions in which she was interested required a BA just to apply. With a full time job and family obligations, it was not possible for her to attend a local university that was within a reasonable driving distance to acquire a BA. She ended up getting her BA in a degree completion program at Cal State Dominguez Hills. Although she never met any of the students or faculty in person while in the program, finishing the degree was so meaningful to her that she flew down here to attend the commencement ceremonies, as did many other students in her cohort.
"The sense of accomplishment was just as intense as if she had been a 'regular' student in a traditional BA program."
What does the cohort model — where you take all of your classes with the same group of peers — bring to the online learning experience?
I currently teach courses for other degree completion programs as well as Cal State Fullerton's BA in HSS program. We always have an "Introduce Yourself" discussion forum to start off the semester, and in reading what students say about themselves, I have found that they develop a distinct sense of community with each other. Part of this may be the fact that most students in degree completion programs like these are non-traditional students already in the workplace, and often with families and children. I think it is encouraging to be able to talk with other people in similar circumstances — it gives moral support to know you are part of a group of students sharing similar challenges. As students move through the program, they also motivate each other when they can see the finish line.
What else should students know to be successful in the online classroom?
For all students taking courses online, the most important thing is to be diligent about keeping up. It is all too easy to want to postpone working on the class after a long day at work. Eight weeks goes by quickly, so set aside enough time to work on your class. Although it may seem like condensing a semester into only eight weeks might make it harder, actually, I think the fact that we move quickly through the course can add to a real sense of accomplishment, and the knowledge that you are progressing through the program. In only eight weeks, you have already completed one course and can move on to the next. Another important key to success is to be in contact with your professor. Take note of the messages and/or emails your professor sends to the class. Ask questions when you need to, and don't be afraid to say you don't understand something. Take advantage of whatever type of office hours your professor offers — this might be virtual office hours, appointments using a program like Skype or Zoom, phone conversations or email conversation. Remember, we are here to help you be successful in your program.
How does an interdisciplinary program like the Online BA in HSS Program prepare students for successful careers?
The best answer to this question is to cite the College of Humanities and Social Sciences website, which describes the education offered by the 20 departments of the college as a traditional liberal arts education that emphasizes intellectual growth, critical thinking about the world in which we live, global connectedness, social justice and civic engagement. The curriculum of the BA in H&SS Degree Completion Program is wonderfully diverse, offering courses that focus on culture, literature, the place of humans in the environment, ethnicity, race and history, as well as music, art, film and technology. To me, this kind of training develops not only critical thinking and communication skills, but also an awareness and an appreciation for the cultural, ethnic, religious, age and gender diversity that is part of our world and our communities, and is certainly a part of our workplaces.
What are the career paths for graduates?
There have been a number of articles in recent years about how large corporations such as Microsoft, Intel and Google value what have been called the "human sciences," including philosophy, history, literature, anthropology, sociology, and the arts. Notwithstanding the importance of technological skill, scientific training and statistical expertise in our complex world, "people skills" are also incredibly important. For example, the successful development and marketing of products requires an understanding people's motivations and needs, as well as an understanding of cultural values and traditions, especially when a corporation operates on a global scale. Social services, public policy-making and other such careers certainly benefit when professionals are skilled in the "human sciences." In an increasingly divisive yet globally interdependent world, it's important for us to learn about, and be able to recognize and understand, our relationship with others in our communities, society and the world.
What's your next step?
Book an advising appointment to learn more or join our email list to get important updates.
Book Advising

Book an advising appointment with BA in HSS Advisor Whitney Youngren. Whitney is available in person, by phone or online to answer your questions and discuss the best course of action for you.