Five Questions
about the Computer Forensics Certificate Program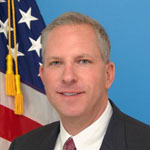 Jason G. Weiss
Special Agent — Federal Bureau of Investigation/Senior Computer Forensic Examiner
22 years of teaching experience

Jason G. Weiss is a lead instructor in the Computer Forensics Certificate Program at California State University, Fullerton. In this Q&A, he talks about program benefits, the value of an online learning platform, and common career paths for graduates of the program.
---
What are some of the benefits of online learning?
Online learning provides students with the flexibility to learn on their own schedule and in a way that works best for them. Students can review the weekly lectures when it best fits their schedules, and if they have any questions they can call or email the instructors as needed — no more fighting traffic or spending your weekends locked in a classroom.
What are some of the benefits of using forensic tools and industry technology in this program?
In this program you will be exposed to many different tools to ensure that you, as a student, have a wide range of options when starting out in your quest to start a new career in computer forensics. Nothing can replace hands-on experience of using industry approved and tested tools, and when taking this program you will be on the leading edge of forensic tool technology.
Is there anything else that students should know in order to be successful in the online classroom?
To be successful in this program, you have to be willing to spend some time and energy to take advantage of over 30 years of instructor experience. The instructors will work with you and your schedule but you have to be ready, willing and able to consider starting a new career. This program is designed for working professionals like you, so to be successful you just have to want to learn!
How does a program like the Computer Forensics Certificate Program prepare students for successful careers in this field?
This program will give you a huge competitive advantage against students from other schools. The instructors in this program have given a large part of their careers to working in the computer-forensics industry, and you have a chance to learn real-world skills that will prepare you for your first job in such a new and dynamic field. To be successful you have to have the will and the drive to be the best.
What are some common career paths for graduates? For example, what is a job title that someone might have once they finish the program?
Career paths for students can go two different directions:
1. Work in law enforcement as a computer forensic specialist and help solve digital crime in real-world cases.
2. Join the private sector as a computer forensic examiner to support civil and trial litigation needs. This industry may see huge growth as civil litigation cases become more dependent on digital evidence.