Five Questions
about the Graduate Certificate in Human Resources Program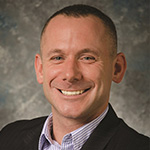 Dr. Shaun Pichler
CSUF Professor
Extension and International Programs
---
Is there anything that students should know in order to be successful in the Graduate Certificate in Human Resources program?
Each course is fully online and completed in 8 weeks. Successful students are those who stay in contact with their professor and stay abreast of the material. Each of our professors has been carefully selected based on their industry experience, advanced education, as well as experience teaching online- they are passionate about helping students succeed. Student success in this environment also takes initiative, self-discipline, and collaboration. The more initiative students take, the more they stay in touch with their classmates and professors, the more enriching the learning experience, and the more likely they will succeed.
How does a program like the Graduate Certificate in Human Resources program prepare students for successful careers?
The Graduate Certificate in Human Resources (HR) program can help students from a variety of academic and professional backgrounds advance their careers. For instance, the program is beneficial to students with significant HR-related work experience and who want to advance their career through graduate education from a prominent, dual-accredited AACSB business school. Courses in the certificate can also be helpful for students who want to work in the field of HR, but haven't had much coursework or training. Each course provides a foundation of each topic, as well as specialized readings and applied projects. In this way, all students who successfully complete each course will have a shared and advanced understanding of each topic. These are for-credit courses, and can therefore be used for continuing education credits for professional certifications. Moreover, all three courses can be applied towards credit in the College of Business and Economics MBA program for students considering this degree in the future.
What are some common career paths for graduates?
Many advanced HR positions require or prefer some post-baccalaureate education, such as the role of an HR business partner and HR manager, according to the Bureau of Labor Statistics. Our Graduate Certificate in Human Resources is an excellent way for students with extensive HR experience to stand-out amongst their peers and to prepare for upper-level HR management roles. The knowledge and skills students will develop in these courses can also prepare students without much experience in HR for more entry-level positions, such as recent college graduates or students with degrees in other areas.
What are some of the highlights of this program? (Is there a particular course/lecture that is your favorite?)
One of the key features of this program is our top-notch faculty. Our instructors have extensive work experience, advanced degrees from top universities, and are passionate about teaching online. Each of the courses in this program includes a project so that students can apply the concepts and theories from each topic to a real-world type of scenario. It is important that students come away with an understanding of key human resource concepts and theories, but our goal is to help students apply their knowledge to the world of business.
What are some of the benefits of online learning?
One of the key benefits of online learning is that students come from all walks of life: They are diverse in almost every way you can think of — from age, work experience, ethnicity, and national origin, which brings diversity of thought to the online learning environment. Online classes are able to reach a more diverse student body than traditional brick-and-mortar classes, and students benefit tremendously from collaborations with peers with different perspectives.