CSUF International Education Week 2022
"It Takes A Global Titan"
November 14-18, 2022
IEW 2020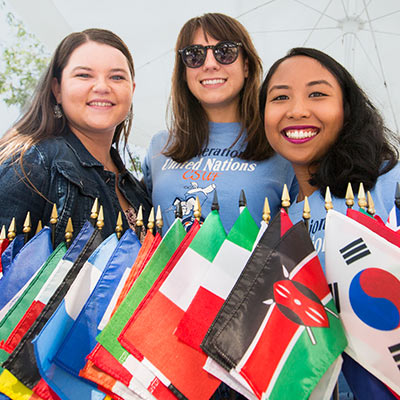 Welcome
International Education Week (IEW) is a joint initiative of the U.S. Department of State and the U.S. Department of Education that encourages individuals and institutions around the nation to recognize, celebrate and promote the benefits of international education and exchange.
At CSUF, IEW is an opportunity for all students, faculty, staff, and alumni to practice being Global Titans by cultivating curiosity, appreciation and respect for all cultures and backgrounds through participation in enriching activities and experiences, engagement with diverse individuals and groups, and exposure to different ideas and opportunities to "thrive in a global environment" all on campus.
Our Global Titan Map
Pin a place on our map of where you've traveled, lived, worked, or your family is from!
IEW Resources
Join a virtual information session to begin your global experience and get all your questions answered. Our information sessions will help you learn how to find the ideal program for your budget, academic goals and cultural interests.
Did you know that the CSU system offers their own study abroad programs to students across all 23 campuses? Meet the CSUIP team and learn about their specific programs through their virtual office.
Future Titans Read is an ongoing service project, led by the Community Service Programs project directors. The goal is to produce an inclusive, diverse, and whole wellness-centered channel that promotes conversations for families and provides hours of entertainment to kids.
Think globally, explore locally. Titan Outdoors has put together a local guide for all your outdoor needs. Titan Outdoors also offers gear rental for students and Rec Center members to help you get outside and enjoy our natural world.
Show your support and commitment to study abroad and global engagement programs and initiatives by making a donation on our "It Takes a Titan" campaign giving page.
IEW Beyond CSUF
Come celebrate study abroad and international education with us! November 14 – 18 is International Education Week, and we're commemorating each day with fun, informative, and cultural programs.
Join us as we virtually travel the world through live streaming events, learn about new trends in global education, and connect with colleagues and students around the world.
This year SAA is celebrating IEW with a planned event each day Monday through Thursday:
Live streaming sessions from around the world
Professional faculty-led program development workshop
Free access to our

premium

interactive 360 GLE™ (Global Learning Experiences) content
Demo of our new 360 Cultural Studies Course
---
American Association of State Colleges and Universities (AASCU) Celebrates International Education Week 2022
This International Education Week, AASCU will focus on highlighting initiatives and partners assisting AASCU institutions in developing innovative programs and sustainable partnerships that build institutional capacity in the areas of student success, global diplomacy, and comprehensive internationalization. Each of the week's activities will also feature leaders from AASCU institutions whose campuses are doing innovative and exemplary work in these areas.
---
From Study Abroad to the State Department: How Developing Global Perspectives Supports U.S. Foreign Policy
USA Study Abroad, part of the U.S. Department of State's Bureau of Educational and Cultural Affairs (ECA), and its Benjamin A. Gilman International Scholarship Program are pleased to invite current recipients and alumni of the Gilman Program, the Critical Language Scholarship (CLS) Program, ECA exchange alumni, and all interested U.S. undergraduate and graduate students to attend this 2022 International Education Week virtual event.
Check-out Past IEW Celebrations!
Study Abroad & Global Engagement (SAGE): Past, Present & Future
Jack Hobson (Global Titans Center Senior Director) and Shari Merrill (SAGE Associate Director) describe the response to the COVID-19 global pandemic; the transformation of the Study Abroad office to the Study Abroad & Global Engagement office; and future opportunities for Global Titans (students and faculty).
HSS Study Abroad Summer Programs Information Session
Presented by College of Humanities and Social Sciences
The College of Humanities and Social Sciences' departments and programs offer students the breadth of a traditional liberal arts education in the humanities and social sciences while preparing professional study in fields such as law, education, public administration, clinical psychology, and business. Of course important learning takes place outside of the formal structure of classes as well. We invite you to join us to learn about all H&SS 2022 summer study abroad programs.
CSU International Programs Specific Information Session
Presented by Study Abroad & Global Engagement (SAGE)
Participating in a Study Abroad & Global Engagement (SAGE) program enriches a student's academic and professional life, and promotes personal development and transformation. The goal of this session, led by SAGE Global Titan Ambassadors, will be to inform students about CSU International Programs and processes as well as answer any questions to common topics.
Access code: GTC1957
Post-Study Abroad or Global Engagement Opportunities
Presented by Global Titans Ambassador Program
The Global Titans Ambassador Program is a voluntary program that provides study abroad alumni the opportunity to share their enthusiasm and passion for study abroad and global engagement with the CSUF community while engaging in activities that help foster professional development.
The Global Titans Buddy Program is a group of volunteers from CSUF who help visiting international students adapt to campus life and American culture. International students will be paired with a buddy who can answer basic questions about studying, socializing, and living in Fullerton. Domestic students are often former study abroad/away participants and have been on campus for at least one full semester. This program was developed to help incoming international students meet American students and other international students quickly. CSUF students get to have an international experience, have cultural exchange, sometimes language exchange, and make an international friend.
Become a Mentor for Children Across the Globe
Presented by Village Book Builders
This is an incredible way to give service online, especially since most of the world is still experiencing social distancing and quarantine. The mission of the Village Book Builders mentorship program is to empower the next generation of children across the globe, providing them resources and connections they otherwise would not have access to. Together, we aim to reach more students, sowing seeds of hope along the way.
Career Toolbox for ECS International Students
Presented in partnership with the Career Center & College of Engineering & Computer Science
Come hear firsthand from the Career Center and ECS International Student Advisor about the effective ways you can prepare for your career. This workshop will benefit ECS undergraduate and graduate international students in their career development including tools to find internships, research opportunities and jobs.
Gaining Transferable Skills for the Post-COVID World: Lessons from My Virtual Programs in Germany and Italy
Presented by Global Titans Ambassador Program
The global pandemic disrupted travel all across the globe as well as how we work and live, but it doesn't have to disrupt your global education, goals or dreams. Virtual Programs provide the opportunity for students to complete courses and/or receive internship credit. Global Titan Ambassador, Priscilla Ortiz will discuss her experiences participating in Virtual Programs in Germany and Italy.
Making Study Abroad "Count": An Academics Workshop for Study Abroad & Global Engagement Programs
Presented by Study Abroad & Global Engagement (SAGE)
All students interested in study abroad and global engagement programs won't want to miss this workshop. We will get into the weeds and finer details and cover basic program information, researching and transferring courses, and academic goal setting and planning so you can make your SAGE program "count".
Summer Study Abroad in Bali, Indonesia
Presented by College of Humanities and Social Sciences
We invite you to attend this info session to learn more about the summer study abroad program to Bali, Indonesia. During this 28-day Bali program, students will experience Balinese culture while also critically analyzing the environmental, economic, and social impacts of the tourism industry in Bali.
Fulbright U.S. Student Program Information Session
Presented in partnership with Fulbright Staff and Alumni Ambassadors
IIE Fulbright Staff and Alumni Ambassadors will present general information about the Fulbright's history, eligibility, award types, award benefits and application components and tips. IIE Fulbright Staff will answer general questions before student participants are sorted into breakout rooms by institutions where the Fulbright Program Advisor, will cover CSUF specific details, such as campus resources, deadlines, and next steps.
Study in Canada: CSU IP - Concordia University
Presented by Global Titan Ambassador Alumn
A former Global Titan Ambassador will share her perspective of Canada after touring a university in British Columbia. Hear what the environment was like, her experience with the people there, and how she navigated the public transit system. As one coffee shop in Vancouver put it, "Everyone is welcome."
More Affordable Than You Think: A Finances and Costs Workshop for Study Abroad & Global Engagement Programs
Presented by Study Abroad & Global Engagement (SAGE)
Did you know there are students studying abroad this Fall 2021 semester in countries like France, Ghana, South Korea, the United Kingdom, Italy, and Germany, and they paid the same CSUF tuition as you? Find out how. All students interested in study abroad and global engagement programs won't want to miss this workshop. SAGE programs are more affordable than ever. Learn how to look at program budgets, use applicable financial aid (e.g. grants and loans) for your program and research scholarships to make your global aspirations closer to reality.
COM Study Abroad Summer 2022: Barcelona Spain
Presented by The College of Communications
This presentation will discuss and answer questions about this exciting study abroad opportunity for CSUF students. This 4-week summer program allows you to live/study in beautiful Barcelona Spain while taking courses in CTVA and HCOM that focus on media and culture. Students take CTVA 360 International Reality TV and HCOM 320 Intercultural Communications, which is an upper division GE (Cat D and Z overlay). What makes this program different is the accommodations. The program is housed at "The Student Hotel Barcelona", which is only 15 minutes from the beach and where students stay in single rooms and have access to the hotels many amenities including a roof-top pool, a fitness center, and kitchen facilities if they want to cook some of their own meals. Best of all this program is supported by IRA funding which makes this program very affordable for students. Join the program to learn more and to have your questions answered.
Study Abroad MythBusters
Presented by Global Titans Ambassador Program
Calling all Global Titans! We the Global Titan Ambassadors (GTA) are excited to be back for IEW 2021 for another student-led VIRUTAL event called Mythbusters! Join us and adventure thru the virtual world to gather facts, debunk myths about study abroad and learn about the various resources that SAGE offers here at CSUF. While gathering and adventuring with us GTAs, participants will have a chance to win prizes at the end of the event! Grab your computer and phones and let's start on this adventure together! Your study abroad journey awaits, Global Titan!