CSUF International Education Week 2020
"It Takes A Global Titan"
November 16-20, 2020
IEW 2020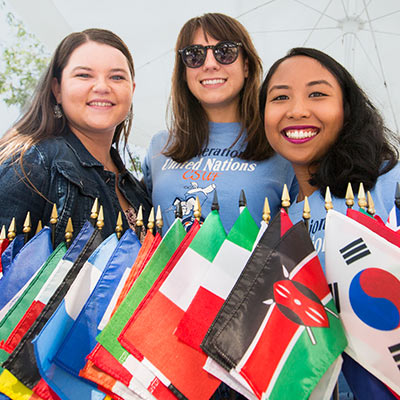 Welcome
International Education Week (IEW) is a joint initiative of the U.S. Department of State and the U.S. Department of Education that encourages individuals and institutions around the nation to recognize, celebrate and promote the benefits of international education and exchange.
At CSUF, IEW is an opportunity for all students, faculty, staff, and alumni to practice being Global Titans by cultivating curiosity, appreciation and respect for all cultures and backgrounds through participation in enriching activities and experiences, engagement with diverse individuals and groups, and exposure to different ideas and opportunities to "thrive in a global environment" all on campus.
Message from Jack Hobson, Senior Director for the Global Titans Center
The COVID-19 pandemic demonstrates in many ways the degree of human interconnectivity and the critical importance of global education in the world today. In this context, cultivating a global perspective becomes not only a personally enriching experience, but a vital personal and professional skill set. CSUF remains as dedicated to fostering this global perspective for all Titans - even virtually – as ever! The new Study Abroad and Global Engagement (SAGE) office continues to provide students access to meaningful virtual programming, such as IEW. The theme for this year's International Education Week is "It Takes a Global Titan" — where we will celebrate and highlight the breadth of ongoing global engagement and international programming across the virtual CSUF campus. Take this chance to celebrate our Global Titan community and learn how you might become an active participating member.
Throughout these challenging times, it takes a Global Titan to keep learning, keep making connections, keep dreaming, keep reaching higher, and keep striving for a better world.
IEW Schedule
Thank you for attending the event. We made every effort to record most sessions to share with you. Browse through the schedule to see if you had missed one that you would have liked to attend or re-attend.
11:30 AM- 1:00 PM (Pacific)

Titan Table Talk: Civic Engagement and Advocacy in the Native American and Indigenous Communities
Presented by Diversity, Inclusion & Equity Programs

Titan Table Talk is a monthly dialogue event in which panelists are invited to speak on their personal and professional experiences as it relates to the selected theme. Utilizing the "narrative change" aspect of the Truth, Racial Healing, and Transformation Framework, this event will help educate participants on the impact of various social justice issues on certain cultural identities to promote racial equity on campus. Join this month's Titan Table Talk in recognition of Indigenous History Month.

1:00 PM- 2:15 PM (Pacific)

Intercultural Communications Workshop
Presented in partnership with Diversity Initiatives & Resource Centers (DIRC)

This workshop examines nine intercultural values (individualism vs. collectivism, power, gender, time orientation etc.) and consider how these values impact conflict and interpersonal communication. Students will gain critical consciousness and communication skills applicable to interpersonal communications and workplace communication.

4:00 PM - 5:00 PM (Pacific)

How a CSU Commuter Student Found Her Place in the World: Lessons in Creating, Owning & Telling a Narrative
Presented in partnernship with Housing & Residential Engagment

Aileen Vickory is a Study Abroad and Global Engagement advisor and UNIV 100 instructor at CSUF. She is also a proud two-time graduate of the CSU-system. She received a Bachelor of Arts in English Education and a Master of Science in Counseling in Student Development and Higher Education from CSU Long Beach. In a "TED Talk"-inspired presentation that includes themes of major exploration, personal discovery, and professional development, Aileen will recount her journey as a young Filipina-American from Carson, CA commuting to college and studying abroad in London, an English teacher living and working abroad in Japan, and a higher education professional who found her home at CSUF.

IEW Daily Opportunity Drawing Winner
Yadira Mazzini
12:00 PM - 1:00 PM (Pacific)

AAPIFSA Lunch Hour Conversation with guest speaker, Dr. Bey-Ling Sha, Dean of College of Communications
Presented by Asian American Pacific Islander Faculty & Staff Association (APPIFSA)

Each month AAPIFSA hosts an informal Zoom gathering with a special guest and to have campus community dialogue. Join AAPIFSA and November's special guest, Dr. Bei-Ling Sha, Dean of College of Communications, as they discuss "Identity and/in Public Relations: An API Path".

1:00 PM - 2:00 PM (Pacific)

Global Titans Buddy/Ambassador Info Session
Presented by Study Abroad & Global Engagement (SAGE)

The Global Titans Buddy Program and Global Titans Ambassador Program are two signature volunteer opportunities offered by the Study Abroad & Global Engagement (SAGE) office that CSUF students can take part in. As a "Buddy", CSUF students are paired with visiting international students and provide friendship and support throughout the semester and attend numerous events together. As an "Ambassador", CSUF study abroad and away alumni get to share their knowledge and experiences with prospective students while gaining professional development and experience.

3:00 PM - 4:00 PM (Pacific)

Using Your Titan Degree Abroad
Presented in partnership with Peace Corps

Discover the benefits of Peace Corps service from CSUF alum and returned Peace Corps Volunteer, Mychal Castro. Join us to learn about challenging, rewarding, and inspirational moments from his service. Ask questions about the Peace Corps service experience, and gain tips to guide you through the application process. Mychal graduated from CSUF in 2014 and double-majored in Radio/TV/Film and Entertainment and Tourism Communications.

IEW Daily Opportunity Drawing Winner
Giovanna Baez
10:00 AM - 11:00 AM (Pacific)

Career Toolbox for International Students
Presented in partnership with the Career Center

Come hear firsthand from the Career Center and current international students about the effective ways you can prepare for your career. This workshop will benefit all undergraduate and graduate international students in their career development including tools to find internships, research opportunities and jobs.

12:00 PM - 1:00 PM (Pacific)

"Holiday Traditions" Cooking Show

Presented by Total Wellness

Join Total Wellness for its newest cooking show, "Holiday Traditions," where chefs will showcase meals and desserts that are a part of their diverse holiday traditions. Sessions run Wednesdays at noon, Nov. 4-Dec. 16. Contact Alexandra Keyes at alkeyes@fullerton.edu with questions.

4:00 PM - 5:00 PM (Pacific)

Spanish Language Hour
Presented in partnership with Asociación de Alumnos y Ex- Alumnos de Español (Spanish Major Students/ Alumni Association)

In this language hour, we will teach the basics of Spanish and have participants practice the language to give them a taste of the Spanish language. We plan on doing activities such as introducing yourself in Spanish to your Breakout Group and naming regional Hispanic/Latinx food.

IEW Daily Opportunity Drawing Winner
Miguel Tirado
12:00 PM - 1:00 PM (Pacific)

CHIN 101 Workshop
Presented in partnership with Chinese Studies Society

This workshop is perfect for anyone curious about Chinese culture and interested in what it takes to learn Mandarin Chinese! The Chinese Studies Society will introduce the following topics in an interactive and approachable way:

What is Chinese culture?
The basics of Mandarin Chinese.
Why learning Chinese isn't as hard as you think!

2:00 PM - 3:00 PM (Pacific)

Yes, this is for us!: Supporting Black Students in Global Engagement
Presented in partnership with Diversity Initiatives & Resource Centers (DIRC) and CAPA: The Global Education Network

This presentation is about representation and resources for CSUF Black Global Titans. Connect with fellow Black Global Titans, who will share about their experiences pursuing and participating in global opportunities. Receive information from CSUF SAGE staff and our international education partners about the value of a meaningful international and global engagement experience, as well as relevant resources and support that are tailored to Black students' unique interests, needs, and experiences.

3:00 PM - 3:45 PM (Pacific)

Tai Chi Lesson
Presented in partnership with Jin Pei Holistic Education Center

The ancient Chinese practice of Tai Chi has become widely recognized as one of the most powerful ways to improve both physical and mental health. Join us to experience Chinese culture and learn some Chinese moves.

IEW Daily Opportunity Drawing Winner

Avinash Divvela
12:00 PM -1:00 PM (Pacific)

Souper Bowl
Presented by Global Titans Ambassador Program

Calling all foodies! Get ready for the winter by learning about various warm, tasty soups from around the world! This student-lead event will feature the Global Titan Ambassadors, CSUF study abroad alumni, who will share their favorite soups from various regions around the world. This event will also have audience interaction through an icebreaker and quizzes testing your soup knowledge. So sit back with the ambassadors and have a Souper Bowl!

IEW Daily Opportunity Drawing Winner

Maria Castella
IEW Recordings & Resources
Jack Hobson (Global Titans Center Senior Director) and Shari Merrill (SAGE Associate Director) describe the response to the COVID-19 global pandemic; the transformation of the Study Abroad office to the Study Abroad & Global Engagement office; and future opportunities for Global Titans (students and faculty).
Join a virtual information session to begin your global experience and get all your questions answered. Our information sessions will help you learn how to find the ideal program for your budget, academic goals and cultural interests.
Check out our virtual Study Abroad & Global Engagement office to get to know the SAGE advisors, sign up for info sessions or advising, and learn about financial aid, scholarships and various global programs.
Did you know that the CSU system offers their own study abroad programs to students across all 23 campuses? Meet the CSUIP team and learn about their specific programs through their virtual office.
Future Titans Read is an ongoing service project, led by the Community Service Programs project directors. The goal is to produce an inclusive, diverse, and whole wellness-centered channel that promotes conversations for families and provides hours of entertainment to kids.
While Philosophy major and Global Titans Ambassador, Aaron Dam, was studying abroad in Taiwan for the year in 2019-2020, he got involved with Theatre Banana, a Japanese nonprofit theatre group for children. Aaron continues to keep in touch and work with Theatre Banana, even after the COVID-19 pandemic forced them to transition from live to virtual performances.
Think globally, explore locally. Titan Outdoors has put together a local guide for all your outdoor needs. Titan Outdoors also offers gear rental for students and Rec Center members to help you get outside and enjoy our natural world.
Show your support and commitment to study abroad and global engagement programs and initiatives by making a donation on our "It Takes a Titan" campaign giving page.
Global Titan Gallery
Explore and celebrate our global CSUF community by checking out and adding to each of our digital boards.
Share and swap recipes of your favorite international dishes
Pin a place on our map of where you've traveled, lived, worked, or your family is from
Post a message and tell us what being a "Global Titan" means to you
IEW Beyond CSUF
As a nation-wide initiative, check out how other institutions and organizations are recognizing and celebrating IEW.
Global Learning Collective: Global Perspectives on Travel, Tourism and Education for November 17, 2020, 11:00 AM (Eastern)
As the coronavirus pandemic has led to shifts in travel-related industries and operations across the globe, professionals in these fields continue to look ahead and adapt amid ongoing uncertainty. During this roundtable, our global panel of tourism experts and experienced international educators share their insights about the current state of travel and what they anticipate as trends in their global region looking ahead to 2021, offering perspective about accessibility for travelers and students, health/safety considerations, as well as public response to the pandemic. The FREE webinar session will be limited to the first 100 registrants, so we encourage you to register and join early. A recording of the session will be made available to all those that register.
University of Iowa Commitment to Internationalization Lecture Series: Advancing Equity & Inclusion Through Global Engagement with Andrew Gordon for November 17, 2020, 3:30 PM (Central)
Andrew Gordon is a social entrepreneur and CEO & Founder of Diversity Abroad. With a passion for student success, global engagement, and social entrepreneurship, he founded Diversity Abroad in 2006 with a simple vision, that the next generation of young people from historically marginalized backgrounds are equipped with the skills, experiences, and networks to thrive in the 21st century interconnected world and globally diverse workforce.
Crossroads of International Education: Leadership and Innovation in a New Era for November 18, 2020, 2:00 PM (Eastern)
As part of Abroadia's "Global Thoughts" series, three prominent international education thought leaders will examine the challenges for the field in the post-pandemic era. Dr. Michael Woolf, Deputy President for Strategic Development at CAPA, and Dr. Douglas Proctor, Director, UCD Global at University College Dublin, will debate the merits of "traditional" study abroad and a "new" form of international education that incorporates new methodologies and approaches to ensure that the field remains an integral part of higher education for years to come. Dr. Anthony Ogden, Partner at Gateway International, will moderate the debate.
U.S. Elections 2020: Reflecting on the Domestic and International Dimensions and Implications for November 19, 2020 at 10 a.m. (Pacific Standard Time) / 7 p.m. (Central European Time)
This event is part of an English-language panel discussion series Berlin Talks, jointly presented by the international study programs FU-BEST (European Studies) and FUBiS (International Summer & Winter University) of Freie Universität Berlin. Five experts will discuss the national and international dimensions and implications of the U.S. elections. The discussion will take place in English; audience questions and comments are invited via online chat during the live-stream broadcast. The panel members will reflect on the political, economic, and societal background and consequences of the elections, as well as their consequences for U.S. foreign and security policy.
CCIS Abroad is providing fun and exciting virtual activities throughout International Education Week. Virtually explore the world by learning another language using TikTok, learning how to dance Flamenco, and trying your hand at British cooking.
CIEE International Education & Exchange Summit
CIEE will host the CIEE International Education and Exchange Summit during International Education Week, November 16-20, 2020. The Summit will be a free online event, delivered through a series of short workshops and presentations, that will look at the future of international education and cultural exchange programs of all types and tackle topics around the theme: Reimagine, Rebuild, Reopen. This is a free event.
School for International Training (SIT) Critical Conversations Webinar Series for November 16-20, 2020: Education & Social Change
During the Fall 2020 semester, SIT hosted Critical Conversations, a webinar series designed to inspire community-wide dialogue on global, interdisciplinary topics. The semester-long series brought together faculty, staff, and alumni around the world for a variety of virtual events. SIT concludes their Critical Conversations series by celebrating International Education Week through sessions focused on education and social change.
NAFSA's new International Education Week (IEW) Campus Connection will present a full week of virtual programming in recognition of International Education Week. Registration fee required.