CSUF International Education Week 2020
"It Takes A Global Titan"
November 16-20, 2020
IEW 2020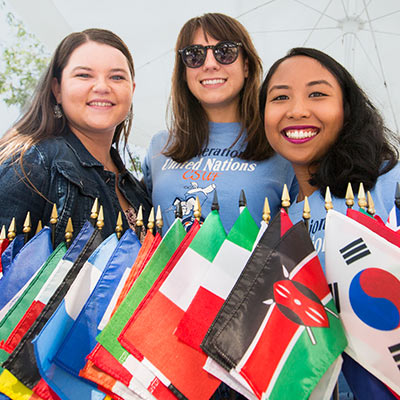 Welcome
International Education Week (IEW) is a joint initiative of the U.S. Department of State and the U.S. Department of Education that encourages individuals and institutions around the nation to recognize, celebrate and promote the benefits of international education and exchange.
At CSUF, IEW is an opportunity for all students, faculty, staff, and alumni to practice being Global Titans by cultivating curiosity, appreciation and respect for all cultures and backgrounds through participation in enriching activities and experiences, engagement with diverse individuals and groups, and exposure to different ideas and opportunities to "thrive in a global environment" all on campus.
Message from Jack Hobson, Senior Director for the Global Titans Center
The COVID-19 pandemic demonstrates in many ways the degree of human interconnectivity and the critical importance of global education in the world today. In this context, cultivating a global perspective becomes not only a personally enriching experience, but a vital personal and professional skill set. CSUF remains as dedicated to fostering this global perspective for all Titans - even virtually – as ever! The new Study Abroad and Global Engagement (SAGE) office continues to provide students access to meaningful virtual programming, such as IEW. The theme for this year's International Education Week is "It Takes a Global Titan" — where we will celebrate and highlight the breadth of ongoing global engagement and international programming across the virtual CSUF campus. Take this chance to celebrate our Global Titan community and learn how you might become an active participating member.
Throughout these challenging times, it takes a Global Titan to keep learning, keep making connections, keep dreaming, keep reaching higher, and keep striving for a better world.
Global Titan Gallery
Explore and celebrate our global CSUF community by checking out and adding to each of our digital boards.
Share and swap recipes of your favorite international dishes
Pin a place on our map of where you've traveled, lived, worked, or your family is from
Post a message and tell us what being a "Global Titan" means to you