The safety of our students, faculty and staff is our highest priority. Given the guidance from the CDC and Governor Newsom, we will continue to offer quality Titan Youth Programs virtually. You may follow our updates by selecting the banner at the top of our website.
Tech Programs
Titan Youth Programs' engineering, coding and web development classes are developed for children and teenagers, from grade three through middle school. Taught by experienced K-12 educators, our courses will help your child understand engineering, coding and web development.
Virtual classes are one-hour long synchronous instructional sessions conducted through a secured Learning Management Classroom. Below you will find course descriptions of all of our academic offerings. You can view program dates and costs under our Fees & Schedule page.
Please note that grades and ages listed are suggestions. Please contact us if you have any questions regarding the class' suitability for your child.
Let's Explore STEM
Grades 1-2
Learn about the world of STEM (Science, Technology, Engineering, Mathematics) in a fun, hands-on interactive class! Build projects like a Magic Light Up Wand or Paper Robot to see what STEM is all about. Explore your creative side in coloring and designing, and satisfy your curiosity in this class.
Coding Games with Scratch
Grades 3-5
In this course, students will learn the steps to develop their own games with Scratch.
Drag-and- drop learning environment created by MIT Media Lab.
Learn computer science foundations and programming logic by using code blocks.
Create own games, animations, or even stories.
From design to development to debugging.
7-to-1 student-teacher ratio.
*Requires access to a computer, the internet, and a webcam.
Engineering for Kids
Grades 3-5
Children interested in how things work can further develop their critical thinking and problem solving skills in Engineering for Kids.
Explore batteries, led lights, circuits, and more.
Project-based learning, such as making a homemade light up Christmas tree or motor driven car.
Balance between presenting easy-to-follow educational instructions and delivering thorough context allowing kids to build something quickly while learning.
7-to-1 student-teacher ratio.
*This course comes with a kit that includes all materials necessary for the activities. Kits will be mailed directly to you. Requires access to a computer, the internet, and a webcam.
Web Development
Grades 6-8
In this class series, students will learn the basics of HTML & CSS and be on their way to creating their first custom websites they can show the world! Classes start at beginner level and build up to completing thier own website.
Learn HTML and CSS using the REPL.IT IDE.
Create their very own portfolio website.
Creative and hands on approach to web design and development.
Access to at-home assignments that they can complete to gain more experience.
7-to-1 student-teacher ratio.
*Requires access to a computer, the internet, and a webcam.
Our engineering courses are interactive and innovative offerings typically offered during the summer months at the CSUF campus or the Fullerton Arboretum. Currently, these courses are not planned to be offered virtually or online.
RoboCircuitz
Ideal for: Grades 2-4 (7-10 yr olds)
Ideal for children who enjoy hands-on problem solving, this class helps your child understand complex engineering concepts. The course provides:
A foundation in coding, robotics and circuit building
Personalized and self-paced learning, with only six students per instructor
Building and programming of LEGO robotic models and working electrical circuits with Snap Circuits through team collaboration.
You can learn more about this class in a story from the Orange County Register
.
Sphero Coding Camp
Ideal for: Grades 2-4 (7-10 yr olds)
In this course, your child will learn the basics of coding, engineering and robotics by:
Working hands on with block-based coding and Sphero robots.
Building interactive games and navigating challenging puzzles.
Taking part in engineering activities that promote innovative thinking.
Mobile App Development Class
Ideal for: Grades 6-8 (11-14 yr olds)
This class introduces your child to the world of mobile app development. Your child will:
Experience the entire app-development process, from design to development to debugging.
Build strong teamwork skills by working in small groups.
Visit a local tech company and learn from industry professionals.

Engineering for Kids
"He was so excited to show me his Tremblor. And he was definitely telling me about all the concepts he was Learning. Thank you!"
- Kristine, SoCal parent
What's your next step?
Learn about Art Camp or join the Titan Youth Programs email list. By joining the list you will also receive program and registration updates.
Art camp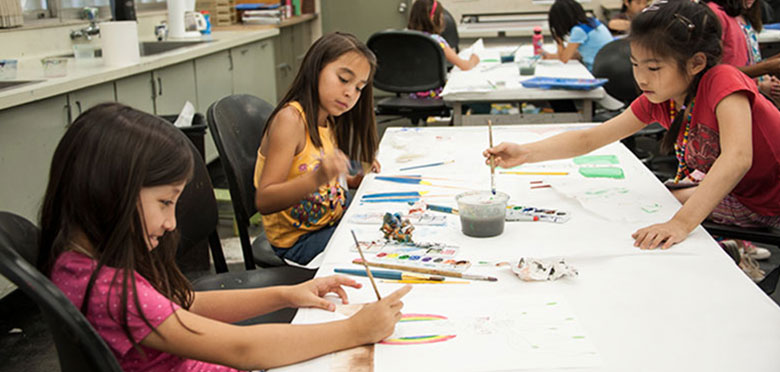 Art Camp allows your child to engage their creativity through painting, 3D sculpture and musical theatre. Learn more about Art Camp.