Background: The Pilot Program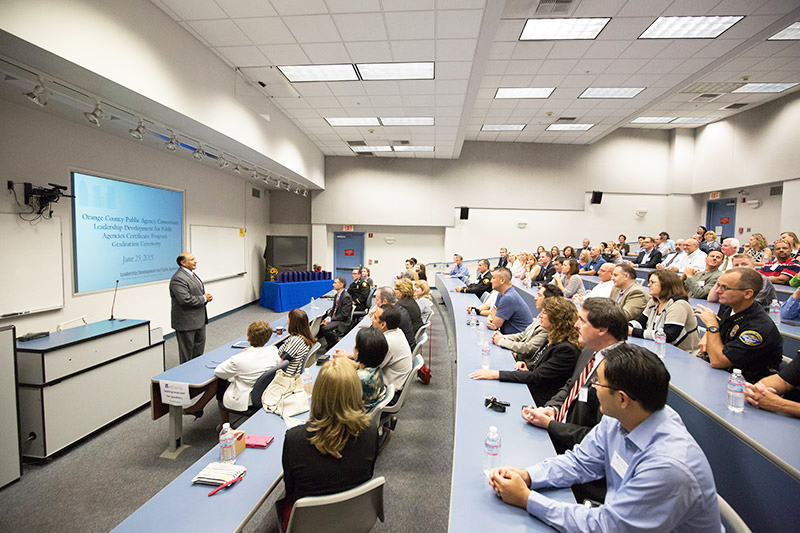 The Orange County Public Employee Consortium was formed in January 2007 to tackle the critical need to develop talent from within public agencies. Eight Orange County cities volunteered to pilot this program (Brea, Costa Mesa, Fullerton, Huntington Beach, Irvine, Newport Beach, Santa Ana and Tustin).
The program has the following shared benefits:
Maximize training opportunities regardless of city/agency size
Forum to share "best practices" and common challenges
Networking opportunities for participants
Address public sector core competencies and serve as positive career reinforcement of public services
Participants receive a Certificate awarded by CSU Fullerton, Extension and International Programs
Leadership Development Program Today
The Orange County Public Employee Consortium has launched a total of nineteen (19) successful cohorts since 2007. To date, over 400 public sector employees from 26 different OC cities and special districts have completed the certificate program.
The feedback from participants and HR managers confirmed the program's value in enhancing the classroom experience and broadening participants' understanding of public services.
Among the graduates are HR Managers, Fire Chiefs, Police Lieutenants, and other supervisors and managers. This program also proves to be equally empowering to emerging leaders, project leaders who do not manage, and those who aspire to lead. Read more about the program: Strengthening the Public Sector, as featured in the University publication, Titan Magazine.
Learning Transfer
An important goal of the Leadership Development program is to positively impact the work public sector employees do on a daily basis. The program is designed to facilitate "learning transfer", which allow students to take the skills and knowledge gained from the classes and apply them to their work and life. Learning transfer may take the form of sharing with peers, utilizing tools to improve work efficiency, or using concepts and skills to implement successful projects. An assessment tool has been developed to track the learning transfer progress throughout the program.
Participant Profile
Each public agency may determine its own selection criteria for this program, however we have found that those who benefit most from this program are commonly identified within the organizations as emerging leaders: high potential individuals, new to supervision, project leads, or mid-level managers. A potential participant's experience in management/supervision is only one factor. The career path of the individual, educational level and departmental succession plan also help to inform the fit for this program.