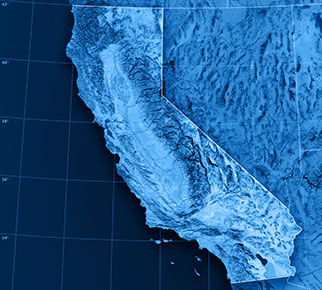 GIS is a computer-based methodology for collecting, analyzing, modeling and presenting geographic data for a wide range of applications. The proliferation of desktop hardware and software has made these systems an important tool in our day-to-day lives. GIS data and the people trained in these methodologies and applications are becoming integral components in nearly every type of business and government service. The GIS professional must be competent in integrating geography, data and systems to solve a wide range of problems for business, healthcare, insurance, law enforcement and other industries.
An important component of this program is the project which is introduced in the first course and carried through the entire program. Certificate graduates will have a completed project portfolio to demonstrate GIS skills.
The Certificate in Geographic Information Systems provides two convenient options for completing the certificate: in-classroom or online. Each of the programs consist of four courses totaling 84 hours of lecture and are project based. The certificate graduate will receive 8.4 Continuing Education Units (CEUs).
Non-California Residents
Due to state and federal regulations, non-California residents may only enroll in CSUF online courses when their state has authorized CSUF as a provider. Click here for more information.
For optimal viewing of the course schedule below, please view on a tablet or desktop

Note:
Click on the course title to view all available course sections. Hover over the colored labels to view where the course will be offered
.
Course Title
Winter / Spring 2015
Summer
2015
Fall
2015
At the conclusion of the certificate program, graduates will be able to:
- Provide a general definition and understanding of the key concepts and topics of GIS including a brief history of the industry;
- Understand the major components of a Geographic Information System including hardware, software and data;
- Identify the role and functions of the GIS Specialist in both the public and private sectors;
- Understand GIS database principles and build a GIS database, data type and data sources;
- Understand the fundamentals of ArcGIS and its related applications; and
- Complete a capstone project integrating the student's GIS knowledge and skills accumulated over the course of the certificate program.
- Recent Baccalaureate graduates across many disciplines
- Employees of organizations either utilizing or planning to utilize GIS
- Career changers - IT Professionals
- Retirees - second career
Jaime M Alas

Programmer/Analyst GIS, Information Technology Services, Downey Regional Medical Center

John C Carroll

Chair, Department of Geography, College of Humanities, California State University, Fullerton

Julie Cooper

Crime Analyst, Irvine Police Department

Carol Creighton

Associate Dean, University Extended Education, California State University, Fullerton

Lauren Henderson

Program Developer University Extended Education California State University, Fullerton

David Holt

Strategic Planner Health Care Systems, VA Loma Linda Health Care System

Paul Horvath

Director, Information Technology TC3 Health

Josephine M Jenneskens

GIS Analyst, City of Carson

Kari A Knutson Miller

Interim AVP, International Programs; Interim Dean, University Extended Education California State University, Fullerton

Pat Lussier

Program Manager, University Extended Education, Cal State Fullerton

Lew Nelson

Manager, Law Enforcement, Criminal Justice Industries, ESRI

Yong-Tae Park

Professor, Department of Information Sciences and Decision Sciences, Cal State Fullerton

Kurt Smith

Community Analysis and Technology, Director, Redlands Police Department

Karen K Underhill

GIS/Database Supervisor, Orange County Water District

Seth Waife

Representative, Health Care Industries, ESRI