Welcome to the Student Resource page where you can find course log-in information and ways to succeed in this virtual learning environment! We look forward to seeing you online!
Are you a new student? Start here!
Step 1. Getting Started
First, go to www.fullerton.edu

Second, click on the 'Students' tab

Step 2. Create your CSUF Portal Account
Please create your CSUF Portal account immediately using your CWID and PIN or no later than two days prior to the class start date. This will ensure timely access to your course.
Your CWID is your Username and your PIN is your Password. You will be prompted to create a unique Username and Password the very first time you log in. You will also be required to verify your identity and create security questions in the event you need to reset your password. This is mandatory and cannot be bypassed.
Step 3. Access your CSUF Student Email Account
You are now logged into the CSUF Portal. All official communication will only be sent to your CSUF student email address. Please note that it is mandatory to use this email account for all class communication, including all individual communication and questions. You are responsible for checking your campus email account on a regular basis.
Your CSUF student email account is accessed from the landing page of the portal as indicated via the envelope icon.

Step 4: Access your Course
Face-to-face virtual courses are facilitated in Canvas. Use the resources below to become familiarized with the learning platform you are using. Your class may not be listed in the learning management system until the start date.
Canvas
From the CSUF Portal, click Canvas on the left-hand column of the screen.
*Note: If the above menu is not visible, click the dropdown button on the top-left of the screen to reveal the menu.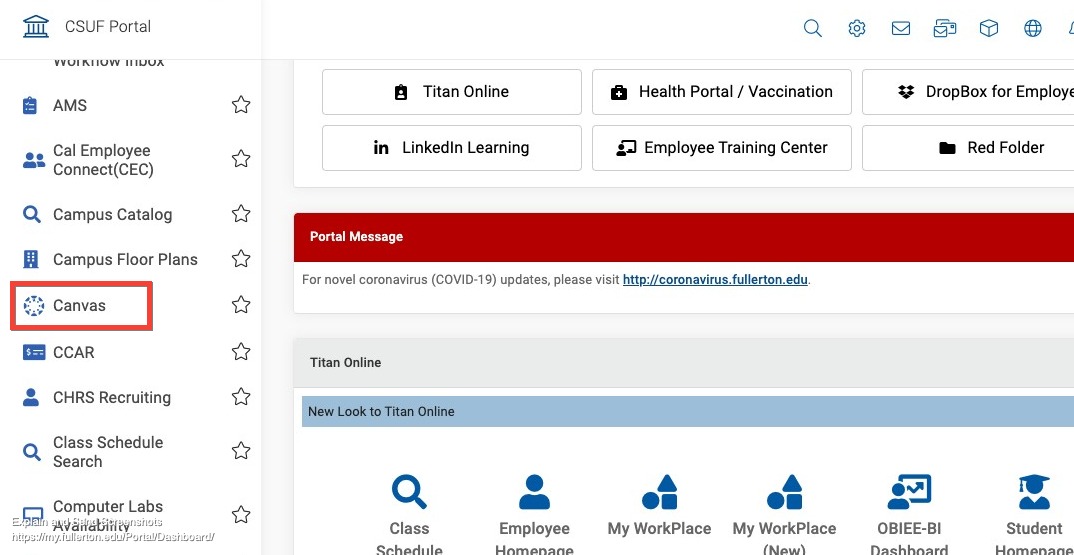 Zoom Virtual Lectures
Zoom is CSUF's online video conferencing tool that will be used to facilitate live lecturing. Attendance to the live lecture is expected as if you were meeting face-to-face. You will be able to participate in live lectures from home using your smartphone, tablet, laptop, or computer. If you have questions or concerns about using Zoom for virtual lectures, please contact eipconnect@fullerton.edu.
Below are some resources available to familiarize you with Zoom in preparation for virtual lectures.
For more resources on how to use Zoom, please refer to Zoom's official Help Center . The University is providing enhanced support to students for Zoom. For support, please call 657-278-8888.
Technical Recommendations
Before registering for an online course, we recommend that you check to see if you have the necessary equipment and software to be successful while learning online.
Support
For Canvas technical assistance, please contact EIP-Online@fullerton.edu.