Six Questions
about the User Experience Certificate Program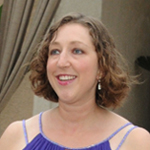 Hilary Bienstock
Instructor, User Experience and Customer Centered Design Certificate Program
Cal State University, Fullerton
11+ years of experience
Hilary Bienstock brings over 11 years of industry experience to her role as an instructor for the User Experience Certificate Program (UX) at California State University, Fullerton. In this Q&A, she talks about the value of an online program, career paths for UX program graduates, and how to be successful in this online program.
---
What are some of the benefits of online learning?
Online learning is fantastic for students who are busy and want to learn on their own schedule. As long as you keep up with the weekly assignments, you're free to work whenever you want with an online class -- evenings, weekends, or during the day. And you can always go back to review earlier course materials, because the lectures and assignments are always available to you.
What is one of your favorite lectures/courses/lessons in this program?
My favorite course is Analysis and Planning for User Experience, because it builds the core skills of observation, ethnographic research, and persona creation. Underlying it all is a foundation in qualitative research methods and a deep understanding of how to research and communicate users' needs and mindsets. This is really the foundation of the concept of User Experience; without understanding your users, there is no user experience. Plus, it's easy to find newcomers to the field who have learned the mechanics of how to run a usability test, but not all UXers (even experienced ones) know how to run foundational research or develop personas. So you'll gain skills that will make you an asset to any UX team.
Is there anything else that students should know in order to be successful in the online classroom?
Online learning is flexible, but also demands more organization and responsibility from students in order to keep track of lectures, assignments, and due dates. You need to be able to plan ahead -- if you're going out of town, or you'll be busy with a big work project, make a plan to finish up the assignment earlier in the week. It's important to have the skills to hold yourself accountable!
How does a program like the UX Certificate program prepare students for successful careers in this field?
In the 9 years I've been teaching, I've seen many students change jobs to a more UX-focused role, or transition their existing job to include more UX responsibilities. The CSUF program is unique because it provides an end-to-end look at the user experience lifecycle, from understanding the field, to foundational research, design, prototyping, and usability testing. The final course even helps students prepare a UX portfolio, which is a critical step in the UX job searching process. This program was not designed to teach academic principles in a vacuum -- it was designed to create well-rounded UX practitioners and them to work in the field. And it works!
What are some common career paths for graduates? For example, what is a job title that someone might have once they finish the program.
Program graduates often go on to UX Design roles, or any other role with UX in the title (UX Researcher, UX Content Strategist, etc.). Or they may go on to a role like Product Manager, in which a knowledge of UX will help them build better products by integrating user focus with business requirements.
As an alum of this program, is there anything you'd like to add about your specific experience that helped you succeed or transition into the field?
I'm not an alum of the program, but as an instructor, I'd say that my favorite thing about the program is getting to meet new people going into UX, along with some experienced practitioners who want a more formal education in UX. I love meeting students who are excited about the field!
For anyone interested in going into UX as a career, I'd say it's important to become involved with the local UX community. Here in Southern California, we have some active meetup groups such as the OC-UX Meetup, LA-UX Meetup, and UX Research Night in Los Angeles, to name just a few. You'll learn from the speakers, and you'll also have the opportunity to meet other UXers, including other newbies, and also experienced practitioners (including some who may be hiring!). If you're able to, there are quite a few good conferences and similar experiences. Also, keep up with your informal UX education by reading blogs, listening to podcasts, or otherwise staying abreast of new thoughts in the field.