Alumni Experience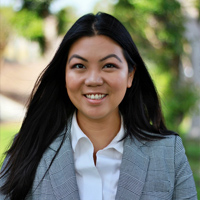 Chanel Labasan
Pre-Health Professions Program Graduate
We spoke with recent graduate Chanel Labasan and asked her to share how she navigated going back to school, why she chose CSUF's program specifically, and what it felt like making the leap from a non-science background into the complexities of the medical field. Keep reading to see what drew her to our program and the tools she used to help her succeed.
---
What was your undergraduate degree in, and what were your career goals while in college?
My undergraduate degree was in psychology. In college, I considered career options that included clinical psychology, social work and education. Ultimately, I view medicine that extends to and intersects with all of these fields.
What were you expecting from the program and did it help you prepare to apply for medical school?
When I decided that I wanted to pursue medicine as a career, I began looking into post-baccalaureate programs that would allow me to fulfill the pre-medical prerequisite courses. It was also important for me to find a program that had successfully matriculated students into medical school while also being cost-friendly. The program at CSUF fit both of these requirements and it was the only program that I applied to.
I was also drawn to the fact that the program is cohort-based, as I wanted to be among like-minded individuals that could provide a built-in support system. The program at CSUF also allows its students to become actively involved with organizations and other activities on campus, and I wanted to feel integrated by involving myself in health-related opportunities.
Finally, the Health Professions Advising Office, and the opportunity to receive a committee letter through their Intent to Apply program, was a huge draw for me. Utilizing these services, and working directly with the advising staff, played a large role in helping me prepare to apply to medical school.
"Be prepared to work hard and build a strong network of support around you. It will be challenging at times and having those around you who can encourage you will be instrumental to your success."
How did the faculty support your professional goals?
Overall, I had a positive experience with the faculty that I took my courses with. All of the faculty were aware that we were postbacc students, so even in some of the larger courses we would still get recognized. With this knowledge in mind, the faculty made sure to provide a rigorous learning experience in preparation for a medical school education. I was able to easily connect with faculty and garner letters of support for my application, easing any initial fears that I had with regards to this portion of the medical school application process.
As a student with no science or very little science background, how did you manage the complexity of the subjects and the program workload?
There was an initial adjustment period as I attempted to not only navigate the rigor of the hard sciences, but also keep up with the pace of the program. There are many services on campus that I utilized to help solidify the content, including Supplemental Instruction taught by student peers.

I also attended office hours to connect with professors directly and formed study groups with my fellow cohort peers and classmates. Having these multiple resources and different ways to engage with the content helped me reinforce what I needed to know for the courses I was taking.
The program was tough, and I had to adapt by finding new ways of learning the material including note taking, watching videos, and relistening to lectures. I am appreciative of how challenging the program was, however, as I believe it gave me a good foundation for being prepared for medical school.
How has your time at Cal State Fullerton prepared you for your career/future career?
Alongside building an educational foundation for a career as a physician, I was able to become involved in organizations on campus as a board member for the Latino Medical Student Association Pre-med Latino Undergraduate Society. This involvement helped me feel more grounded and connected to the campus.
Working alongside my peers who are working towards the same career path, many of them younger than I, and helping them get connected to resources and mentors that will help them excel was a fulfilling part of my time at CSUF, and I know will be something that I will continue to do as a medical student and beyond.
What advice do you have for students in the program?
My advice for students who are in the program is to be prepared to work hard and build a strong network of support around you. It will be challenging at times and having those around you who can encourage you will be instrumental to your success. I also advise students to take advantage of the opportunities and resources on campus including joining pre-health organizations, research, and the Health Professions Advising Office.
So now that you have graduated, what are you doing? What schools did you get accepted to and which one did you choose?
I have been working as a scribe, studying for the MCAT, and have continued to participate in many of the activities that I was involved in prior to entering the program. I have since been accepted to Western University through the linkage program but I have decided to pursue the 2021 medical school cycle.
What are you hoping to do or are currently doing after finishing professional school?
As a future physician, I want to continue to work with underserved communities and be an advocate for mental health. Given my background and numerous interests in areas that intersect with the field of medicine, I hope to pursue a dual degree that will allow me to give my patients the greatest care possible.
What's your next step?
Learn more about admissions requirements or join the pre-health email list. By joining the list you will also receive program and application updates.
Admission requirements
Interested in what it takes to apply? Take a detailed look at our admissions requirements.