Alumni Experience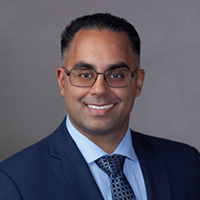 Manpreet Luthra
Medical Student at University of South Carolina School of Medicine - Columbia
Manpreet discovered his passion for medicine during his time in the United States Army. Using the discipline and grit he developed during his years of service, he successfully completed our rigorous program and is on his way to accomplishing his dream of becoming a trauma surgeon. Keep reading to see how CSUF's faculty, students and resources helped Manpreet on his journey.
---
What was your undergraduate degree in, and what were your career goals while in college?
Neuroscience (BS) and Psychology (BA). I had no career goals in college, so I joined the Army.
What were you expecting from the program and did it help you prepare to apply for medical school?
A second chance at pursuing a career that I now knew I wanted, but this time I was armed with values and competencies I acquired from the Army.
"The faculty was amazing. You weren't just another number to the campus. I felt faculty truly cared here. If I could redo my undergraduate, I would have 100% chosen CSUF."
How did the faculty support your professional goals?
Faculty was amazing. Way different from previous undergraduate institutions I attended. You weren't just another number to the campus. I felt faculty truly cared here. If I could redo my undergraduate, I would have 100% chosen CSUF.
As a student with no science or very little science background, how did you manage the complexity of the subjects and the program workload?
I had a science background. I was filed under career-changer. Army to Medicine.
How has your time at Cal State Fullerton prepared you for your career/future career?
First and foremost is the knowledge being unquestionably the most valuable asset that I acquired. Second, is the network of staff, student organizations, and campus student advocacy programs—Supplemental Instruction and the Veteran Resource Center.
What advice do you have for students in the program?
I won't lie. Postbac students don't have the same opportunities as undergraduates attending CSUF. If you are curious as to why, that is a whole other conversation. I will say you have to carve out your own opportunities. Don't expect to be spoon fed. You need to stay on top of everything you need to get done. Talk to Brandy Schaal the program coordinator and previous cohorts. Do not wait till it is too late. You must be proactive! I also want to add that it only takes one postbac student to ruin it for the rest, but at the same time, it only takes one to shine to see what an asset you are to the campus. This means you are being observed by everyone all the time. What you do reflects on the program as well as the opportunities offered. The postbac program puts 80% of its students into a professional school, so trust me when I say that the campus is proud of our achievements. I am very proud to have been a student at CSUF. They allowed me to flourish in ways I never thought possible.
So now that you have graduated, what are you doing? What schools did you get accepted to and which one did you choose?
I am attending University of South Carolina School of Medicine-Columbia under the Army HPSP scholarship. I got into several schools, but this was one of two medical schools (the rest being DO schools) that I was accepted to.
What are you hoping to do or are currently doing after finishing professional school?
I want to be a trauma surgeon for the Army specifically trained to be on the Forward Surgical Team (FST).
What's your next step?
Learn more about admissions requirements or join the pre-health email list. By joining the list you will also receive program and application updates.
Admission requirements
Interested in what it takes to apply? Take a detailed look at our admissions requirements.