Elizabeth Shuman
Singing and practicing medicine require different skill sets, but for Elizabeth Shuman, a bachelor's degree in music was the perfect foundation for EIP's intensive Pre-Health Certificate program.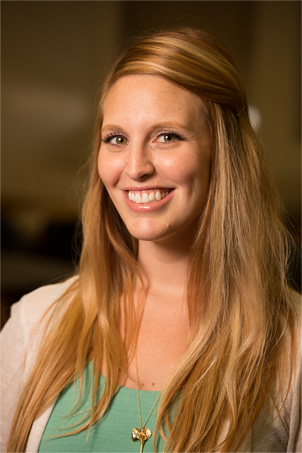 Though she recently enrolled in one of the best medical schools in the country, the path there wasn't always smooth. As a teenager, Shuman admits she was more interested in going out than her homework. She barely graduated high school, but her love for choir helped her earn a music scholarship to California State University, Long Beach.
"College was the turning point," she said. "I became responsible for myself, and I grew up. I also loved singing, so I took it seriously. Some semesters I was on campus seven days a week, at least eight hours a day, studying and rehearsing."
That dedication was great preparation for the pre-health program, a two-year post-baccalaureate to prepare students with non-science degrees for medical school. While science majors in college can spread their med-school requirements out over four or five years (and balance them with fun electives), this program packs all of those classes into two years. For some students, it can be a rude awakening.
"I spent every day in the lab with my cohort until 5 p.m. I remember people complaining, saying they would be home by noon when they were an undergrad," Shuman said. "But for me, being home by 5 was great — I had the whole evening free! When I was a music major, I wouldn't get home until 8."
Still, this didn't mean that the program was easy. At times she was overwhelmed or despondent. But she was never alone. Her cohort of students were going through everything together — same classes, same professors and same anxiety.
"That made us so close as a group. It really is one of the strongest features of the program," she said. "I made friends for life. And it's going to be great to have friends who are vets, dentists, podiatrists — if I have a problem, I'll know who to call. We joke about that, but it's true."
Outside of the classroom, Shuman also volunteered and shadowed doctors. This experience not only complemented what she was learning in the program, but gave her a better idea of what she would (and wouldn't) want to do with her career.
"Every experience was eye-opening. Though sometimes I would watch someone and think, 'I do not want to do this when I graduate,' which is still so helpful," she said.
Though those extracurricular activities are not prerequisites to attend medical school, they are nearly essential for getting into a good one and she is going to one of the best — UC San Francisco's School of Medicine. She knows medical school won't be easy, but after finishing this pre-health program, she isn't daunted.
I knew this program would be science, and science is hard. But I had no idea I would acquire as much knowledge as I did,
Shuman said. "And now I know I have the mental energy and stamina for the really challenging courses I will face in med school."
Photos by Matt Gush