Sally Hong
ATMALA Student Interview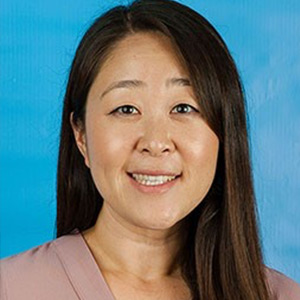 Sally Hong
Math Teacher, NY State Association of Independent Schools

---
Why did you choose CSUF for your micro-credential module/course?
I wanted to be open to the idea that math classrooms are changing. Teachers are no longer distributors of information but facilitators of mathematical discourse. I heard great things about what I could learn from the ATMALA course on how to create a learning environment with mathematical rigor and discussion.
What aspect of the module/course was most memorable for you?
Even though I was a little nervous about the video filming, I appreciated being able to reflect on my own teaching practice and student interactions. After filming, I felt vulnerable sharing with other colleagues but it was actually a freeing experience for me. I learned to be open to collegial comments that would help me grow professionally. I started to have a desire to want more open classroom conversations to get more insights about how I can be more effective.
Why might you recommend the ATMALA micro-credentials to other educators?
It is the first step of willing to be bold about the new generation of learners. At first, I was afraid to give so much control to the students and was wary of where the discussions could go, but I was fascinated and became more curious about how students think about each individual problem. I would recommend this program as an introduction to engaging students in mathematics in a creative manner that allows every student to share their individual/group thinking.
---
Learn more about ATLAMA

You can learn more about the ATLAMA – including information on dates, cost and registration – on our program page.
ATLAMA