Titan Manufacturing Day 2023:
Discovering Manufacturing Futures
Date: October 6, 2023 | Time: 10am - 1:30pm
Sign up for an info session: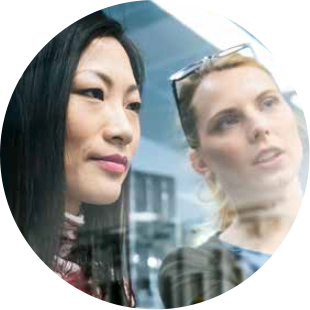 Empowering Women for Careers in Biotechnology webinar
Earn Your Biomanufacturing Sciences and Applications Certificate in 6 Months
The emerging field of biomanufacturing—or the use of biological systems to create products—is rapidly changing. In addition to having specialized technical skills and knowledge of standard practices, these professionals excel at their jobs through critical thinking, effective communication, and collaborative teamwork.
Industries
Healthcare
Agriculture
Textiles
Environmental Science
Energy
Construction
Innovative Materials
Pharmaceuticals
Biofuels
Cosmetics
Genetically modified crops
Biodegradable plastics
And much more
Projected outlook for some Biological Technician experts:
17,900 - 84,300Number of Jobs, 2021
$48,140 - $97,410 Median Pay per year, 2021
9 - 10%Job Growth, 2021-2031
*U.S. Department of Labor, Bureau of Labor Statistics, Occupational Outlook Handbook - Biological Technician and Bioengineer/Biomedical Engineer"
What Will I Learn About Biomanufacturing, Biotechnology, & Biopharmaceutical Industries?
Broad overview of scientific principles
Current research practices
Industrial applications for biomanufacturing
Theoretical knowledge with hands-on techniques used in the operation and maintenance of state-of-the art biomanufacturing equipment
Diverse range of career possibilities in medical labs, industrial production facilities, and corporate offices
Biomanufacturing Topics Include:
Quality standards and guidelines
Regulatory compliances
Cleaning and sanitizing of equipment
Latest technology used in biomanufacturing
Students will gain an understanding of viable career paths depending on their previous experience and educational background—from entry-level roles as biomanufacturing technicians to multiple positions in research and development, quality control, regulatory affairs, and process development. The program's instructors are subject matter experts with knowledge and skills that align with the latest advancements in this rapidly evolving marketplace.
The Biomanufacturing Sciences and Applications program was developed by a consortium of three California State University campuses (Fullerton, Los Angeles, and Long Beach) and Biocom California Institute, which provides workforce development tools and courses for over 1,500-member companies in California.
What's Your Next Step?
Ready to Register:
You can stay up to date on our California State University Biomanufacturing Sciences and Applications certificate program by joining our email list. By joining our email list, we will send you important program updates.