Five Questions
about the Crime and Intelligence Analysis Certificate Program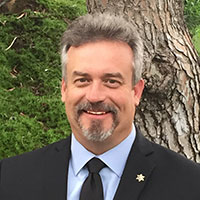 Brian Gray
Central Crime & Intelligence Analysis Unit Manager
26 years of experience

Brian Gray is a lead instructor in the Crime and Intelligence Analysis Certificate Program at California State University, Fullerton. In this Q&A, he talks about program benefits, the value of an internship, and common career paths for graduates of the program.
---
What is one of your favorite courses/lectures in the CIA Certificate Program?
If I had to pick just one lecture out of the Intel Class, it would be on the need to understand Ideology when reflecting on the motivation of many organized criminal groups.
The Computer Applications class offers students an understanding of not only the history of Crime Analysis but also a glimpse into what is required to be an analyst. This gives students the ability to self-evaluate and focus on improving in the areas they might be weak. say
What are some of the benefits of "On-the-job training" through a 400-hour practicum/internship with a law enforcement agency?
There are just some things that can only be taught during a practicum and after a background check. The internship experience brings to light everything the program talks about in a deep meaningful way.
How does a program like the CIA Certificate Program prepare students for successful careers in this field?
The CIA program teaches the foundational concepts necessary to get a job in the profession. These concepts help our students rise to the top of the applicant pool and really shine during the interview process.
What are some common career paths for graduates? For example, what is a job title that someone might have once they finish the program?
At law enforcement agencies, graduates can apply for the positions of Crime Analyst and or Intelligence Analyst. In the private sector some of our graduates' work in Asset Protection, Fraud Analysis at Banks, Insurance Fraud and Claims as well as Contract work in the analysis field.
Is there anything that students should know in order to be successful in the CIA certificate program?
The goal of taking the classes is not just getting a certification. Focus on building your knowledge and skills and really learning from the instructors. The more you participate, the more you take an active role in learning, the more you will get out of the program.