Finding Success
with the Fiduciary Certificate Program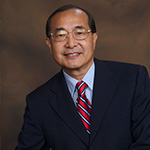 Ted Ong
CEO & Advisory Representative, Prudent Investors and CSUF Extension and International Programs Instructor
Fiduciary Certificate Program

Ted Ong is an instructor in the California State University, Fullerton's Online Fiduciary Certificate Program. His many years in the profession provide a unique expertise that helps prepare certificate participants for careers in this growing field. We asked Ted about the value of internships, the fiduciary industry, and what professional organizations he recommends for new students.
---
What advice do you have for students entering the Fiduciary program?
Not all students go on to become private professional fiduciaries, but all students can gain invaluable information that will pertain to their personal lives and the lives of loved ones. If they have a curiosity to learn and apply what they learn, they will be richly rewarded even if they choose not to make it a career. Many students through the years have commented that they wished they had learned these principles when they were first starting to invest because it would have made a big difference in avoiding costly errors.
For those that intend to become private professional fiduciaries, they should get involved with the Professional Fiduciary Association of California (PFAC) and associate with experienced, successful fiduciaries and at the same time contribute to the profession. The friendships made, the mentoring received, and the joy of service will be rich blessings.
What are some of the highlights of the Fiduciary program?
Many students tell us the Management of the Investment Portfolio Class is the most difficult class for them because they come in with no prior experience and are overwhelmed. We promise them that if they will stay up on the assignments, that by the third week they will have an "aha" moment where it all clicks. By the end of the class students feel empowered to be able to select and supervise investment professionals. This is remarkable when compared with how inadequate they felt in the beginning of the class.
Another highlight is learning from the students. Many students are very accomplished, but in a wide array of professions. This vast array of experience and knowledge makes for engaging and lively discussion forums. Not only are students asking questions, but they are also answering questions from different viewpoints and it enriches all of our understanding.
How does this program prepare students for successful careers?
Certainly fiduciaries can specialize, but the majority of them take a broad range of cases that will involve legal, accounting, care management, investment, and family issues. The program gives exposure and introduces experts that students can use to build a network of solution-oriented advisors. To be successful, one must have a sense of what they do not know. This program gives them the breadth to hopefully help them avoid blind spots that can lead to litigation and loss of licenses.
What are some common career paths for graduates?
Many students are already practicing on the peripheries of the fiduciary world. We have paralegals, accounting professionals, care managers, investment advisors, and those who come to this because they have been thrust into the role of fiduciaries to family and loved ones. One can choose to stay in the narrow lane and cultivate increased empathy and understanding of the broader issues fiduciaries face, or they can jump into the middle of the stream and tackle all of the disparate issues by being a private professional fiduciary.
For those who are new, I suggest they try to find an opportunity to intern or work with a private professional so they can get a feel for whether they would enjoy the work and as a protection to minimize liability from blind spots. For example: a new fiduciary may have a client who has to move out of the home. They are diligently keeping current on bills but are unaware that a vacated property requires a different level of insurance. They may think the property is insured, but it is not, because of the extended period of time when it was unoccupied. In such cases, if the house burns down the fiduciary may be personally liable. It is wise to work with someone who has more experience to learn the potential traps before one takes upon themselves the full responsibility. There are also many opportunities to work in governmental or institutional positions that give experience and can become career paths to pursue.
Anything else you'd like to share?
The CSUF program is highly regarded, with committed instructors who have vast practical experience in handling fiduciary related matters. Recently I was visiting with a fiduciary and she had commented that being a fiduciary has allowed her to live many lives and people are amazed at the breadth of experience she has. From replacing roofs to getting septic tanks functional, to determining the appropriate housing for aging clients to legal challenges to estates, to obstinate beneficiaries to dealing with special needs trusts to comforting those who are preparing for the end of life; every day is a new challenge and if one loves to learn, defend the rights of others and finds satisfaction in serving the vulnerable, they will love being a fiduciary.