Five Questions
about the GIS certificate program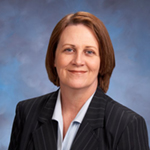 Dr. Karen Underhill
Lead Instructor for Geographic Information Systems Certificate Program
California State University, Fullerton
25+ years of GIS industry experience
Dr. Karen Underhill brings over 25 years of industry experience to her role as the lead instructor for the Geographic Information Systems certificate program (GIS) at California State University, Fullerton. In this Q&A, she talks about the value of this interdisciplinary program, career paths for GIS program graduates, and how to be successful in this online program.
---
Is there anything that students should know in order to be successful in the GIS program?
This is a very much hands-on program. The lectures discuss concepts, but the main focus is using the GIS software all the time. Even the final exams are all hands-on, with tasks to perform using the software.
Be somewhat computer savvy. The students that struggle the most complain about their own computer skills. It is a fast-paced program and there is a huge learning curve just getting to know the GIS applications.
Have newer, well-functioning computers. Some students end up buying new computers in the first course because their old computers won't run the programs properly. Also, the ESRI software does not run on a MAC. There is a workaround, but it is not ideal.
Do not just push through the program just to get the certificate. Their goal should be learning the applications thoroughly and understanding the tools required to get the appropriate end results. So barely squeaking by and doing the minimum is doing themselves a disservice because the more they know the better they will do on the job.
How does an interdisciplinary program like the GIS Certificate Program prepare students for successful careers?
Some want to use GIS in their current discipline and some want to become GIS professionals. Both are possible since the program introduces them to the applications and tools that can be used for many disciplines.
The course doesn't focus on one profession; however, there are some examples of uses in various disciplines throughout the program. Also, the students have the opportunity to apply what they learned to their own profession or interests when developing their Final Project in the last course.
What are some common career paths for GIS Certificate graduates?
GIS Technician – Immediately out of the program (entry level GIS work usually)
GIS Specialist – Sometimes immediately out of the program or about a year experience
GIS Analyst – with more experience, they can apply and take the exam to become a certified Geographic Information System Professional (GISP)
And as mentioned above, some just want to use it in their current profession. Crime Analysts use GIS. Other professions include Environmental Health, any environmental job, Geology, Planning, Engineering, you name it. If there is a spatial aspect to a profession, GIS is a good skill to know.
What are some of the highlights of this GIS program? (Is there a particular course/lecture that is your favorite?)
All are necessary and interesting, but once they start the 3rd course (Analysis and Design) the students start to see their own skills develop.
The GIS Project course is also great because the students have to come up with their own project. Many times, they do a project for their existing job, but some just do a project related to their area of interest. The project must be put together professionally, and I inform the students that if they have a professionally put together Final Project, they have a work product they can show potential employers.
What are some of the benefits of online learning?
The schedule is flexible. We start a new subject every Monday and they have until Sunday at midnight to watch lectures and complete everything for that week. The students can go back and re-watch the video lectures and demonstrations if they don't understand it right away.
In this program, nothing is timed (with the exception of due dates) and everything is open book, so some of the coursework and exams can become learning experiences as they work on it. They are encouraged to look something up if they don't understand it.