Five Questions
about the Advanced Manufacturing Engineering Certificate Program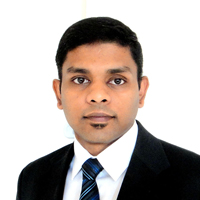 Lead Instructor for Advanced Manufacturing Engineering Certificate Program at California State University, Fullerton
Dr. James is an associate professor of Mechanical Engineering at the College of Engineering and Computer Science at California State University, Fullerton. He received his Master's and Ph.D. degrees in Mechanical Engineering from the University of Cincinnati. His primary research areas are advanced manufacturing, smart manufacturing, and process modeling and simulation. Dr. James brings in more than 15 years of combined academic research and industry experience in the manufacturing field to his role as the lead instructor for the Advanced Manufacturing Engineering Certificate Program (AMEC) at California State University, Fullerton. In this Q&A, he talks about the value of this multidisciplinary program, career paths for AMEC program graduates, and how to be successful in this online program.
---
Is there anything that students should know in order to be successful in the AMEC program?
In today's competitive manufacturing environment, a college or a university degree alone is no longer enough to distinguish yourself from thousands of other qualified candidates. In cases where all other things are equal, a certificate can be the deciding factor determining which applicant is hired for a position.
The AMEC program provides an opportunity to show the employers that you have gained relevant industry-specific skills necessary to enter the dynamic world of high-tech manufacturing.
Some of the key tips to be successful in the AMEC program include:
Prepare a schedule and stick to it
Ask questions and actively participate in course activities
Be flexible and challenge yourselves in learning new technologies
Focus on value addition and continuous improvements
How does the AMEC Program prepare students for successful careers?
It is widely agreed that the U.S. manufacturing sector is poised for rapid growth. However, the manufacturing industries in the nation are currently facing a severe crisis. The problem is that most manufacturing industries need large numbers of workers with high skills that include a better-than-average understanding of the latest advanced manufacturing engineering technologies.
The AMEC program will act as a pipeline for highly skilled and qualified workers to enter the advanced manufacturing industries in the U.S. The AMEC program will help students to improve their manufacturing skills, stay competitive and fast advance in their careers.
The program will provide a broad foundation in fundamentals of advanced manufacturing engineering, technology, and principles as well as exposing them to cutting-edge technologies that enhance value and raise the productivity of industrial manufacturing
What are some common career paths for AMEC program graduates?
Project Advanced Manufacturing Engineer
Principal Additive Manufacturing Engineer
Manufacturing Automation Controls Engineer
Advanced Manufacturing – Materials and Process Engineer
Manufacturing Process Engineer
Manufacturing R&D Engineer
Production Process Analyst
What are some of the highlights of this AMEC program? (Is there a particular course/lecture that is your favorite?)
All the courses are interesting. However, Course #3 (Additive Manufacturing Engineering) is particularly important as more and more companies have been steadily moving into additive manufacturing (AM) technologies.
The AM technologies help invent new products rapidly and also support traditional manufacturing operations without much addition to the capital investments. Also, Course #2 focuses on the current trend of industrial automation and Industry 4.0, which have opened up several new doors and possibilities in the emerging world of digital manufacturing
What are some of the benefits of online learning?
The online learning model offered in the AMEC program provides flexibility and the opportunity to learn at your own pace. It allows better time management and organizing of the tasks. Most importantly, you don't need to relocate or commute to attend the classes, essentially making it possible to keep performing well in your current jobs. Lastly, online learning helps you in networking with a broader range of people.