Five Questions
about the Biomanufacturing Sciences and Applications Program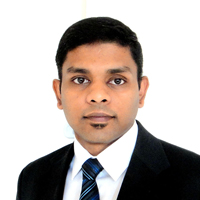 Associate Professor, Mechanical Engineering, College of Engineering & Computer Science, California State University, Fullerton
Dr. James is currently working as an Associate Professor in Mechanical Engineering at California State University, Fullerton. He received his master's and Ph.D. degrees in Mechanical Engineering from the University of Cincinnati. His primary research areas are Advanced Manufacturing, Smart Manufacturing, and Process Modeling and Simulation. Dr. James brings in more than 15 years of combined academic research and industry experience in the manufacturing field to his role as lead instructor for the Biomanufacturing Sciences and Applications Program at California State University, Fullerton (formerly known as the Biomanufacturing Technician program).
---
How does the BSA program prepare students for successful careers?
In today's competitive job market, a college or university degree alone is no longer enough to distinguish yourself from thousands of other qualified candidates. In cases where all other things are equal, a certificate can be the deciding factor in determining which applicant is hired for a position.
The BSA program provides an opportunity to show employers that you have gained relevant industry-specific skills necessary to enter the biomanufacturing workforce.
Our program integrates concepts from biological sciences with manufacturing engineering that will prepare students with the knowledge of new tools and cutting-edge technologies necessary to succeed in the unique world of biomanufacturing.
What are some common career paths for BSA program graduates?
The biomanufacturing industry actively produces a wide range of bio-products for the global economy. This industry relies on a skilled workforce from several STEM disciplines, including biology, chemistry, physics, engineering, manufacturing, and computer science. These combined skills are vital to the success of building high-quality and valuable bioproducts for the consumers. That being said, some of the potential job paths for our BSA program are:
Biotechnology Manufacturing Engineer
Systems Engineer
Biomanufacturing Process Development Associate
Validation Engineering
Automation Engineer
Biotech Industrial Engineer
Is there anything that students should know to succeed in the BSA program?
Some of the key tips to be successful in the BSA program include:
Prepare a schedule and stick to it
Ask questions and actively participate in course activities
Be flexible and challenge yourselves to learn new technologies
Focus on value addition and continuous improvements
What are some of the highlights of this BSA program?
Biomanufacturing is a vast topic that encompasses several areas of science and engineering. The combined knowledge of these areas is required for the research and development (R&D), design and analysis, and industrial manufacturing of bio-based products for global consumption. Our BSA program covers a broad range of knowledge and skills foundational to the success of careers in the biomanufacturing sector. Some of the key topics of interest to those looking for a long-term career in biotechnology would be 3D Bioprinting technology, Digital Biomanufacturing, and Smart Biomanufacturing.
What are some of the benefits of virtual learning?
Virtual learning is rapidly becoming an effective learning strategy for students globally. It offers the benefits of flexibility, time management, and an accessible learning environment for both students and educators. Virtual learning allows you to have the comfort of staying at home or wherever you like as you learn.