Zhuoran's Story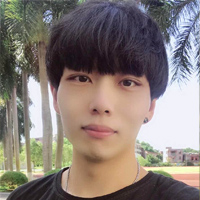 Zhuoran Li
Instructor / Computer Science Department, polytechnic college, Guangdong province, China
When Zhuoan was looking to push further into programming, he chose AMSE. Find out why and see how far the program has taken him.
---
Why did you choose CSUF for your AMSE program?
I have always wanted to study overseas. California State University, Fullerton has the renowned software engineering graduate program that I have looked for. Although I graduated with a bachelor's degree in Electric Engineering,I'm actually pretty interested in software engineering since it is closely related to my major. Moreover, I'm also passionate about programming and willing to go further in this area to get a master's degree. Therefore, the AMSE program suited all my needs, that's why I chose it!
What were you doing before the AMSE program?
Before this program, I worked as a technician in the technology department of a company. I was in charge of designing the controlling system for elevators.
"...the AMSE program suited all my needs, that's why I chose it"
What were you hoping to get out of this program?
I hoped to get a solid foundation and knowledge regarding software engineering, including software requirements analysis, software architecture as well as software testing. It is extremely useful for my personal growth and career development.
Did the AMSE program improve your career? If so, how?
Definitely yes! I landed this teaching job which I enjoy very much after I graduated and got promoted several times since then. My monthly salary is three times higher than before. There are also more opportunities for me to get a promotion in the Chinese college system.
What advice do you have for students entering the program?
Personally, I strongly suggest that you should learn one programming language such as PHP Javascript beforehand. I mean you will have a better understanding of the courses in this program if you got some programming basics.
What's your next step?
Learn about the program schedule or receive an AMSE Program Guide by joining the AMSE email list. By joining the AMSE list you will also receive program and application updates.
Program Schedule

The 17-month AMSE program is the one of the fastest ways to earn your advanced degree. Get details on the classes you will be taking every semester.