Alumni Experience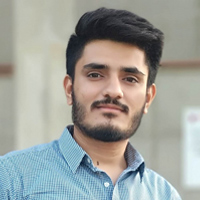 Faheem Samol
Cloud Support Engineer - DevOps / Amazon Web Services / Seattle, WA
Prior to joining AMSE, Faheem had graduated from CSUF with a Bachelor's degree. Find out why and see how far the program has taken him.
---
Why did you choose CSUF for your AMSE program?
CSUF curriculum had a good mix of software management, design and architecture courses that helped me build upon the technical knowledge I received from my bachelor's degree. CSUF helped me become a well-rounded software engineer with management skills. The cost was also a major factor when looking at grad schools and the AMSE course was priced well.
"AMSE provided me with good overall project management and software development skills."
What were you doing before the AMSE program?
I graduated with my bachelor's degree in computer science 5 months before joining AMSE and was interning at a local company.
What were you hoping to get out of this program?
Advanced knowledge of software design and architecture.
Project management skills.
International study experience.
Did the AMSE program improve your career? If so, how?
AMSE provided me with good overall project management and software development skills. I was able to find a job with Amazon Web Services as a Cloud Support Engineer in DevOps where I will be able to use the knowledge I gained from AMSE as I further in the company.
AMSE also gave me a chance to get diversity experience as my classmates came from across the globe; it was a multicultural learning experience as well.
What advice do you have for students entering the program?
Take advantage of the small cohort size and interact with the faculty in class as there are a small number of students that professors have to attend to.
There will be people from different countries in the cohort so take that opportunity to learn from them and partner with different people for different projects.
Work just as hard on projects as theory because that is what helps the most when job hunting.
What are you planning to do next, once you complete the program?
Work full time in tech and eventually become a Solution Architect.
What's your next step?
Visit the Apply page to learn more about applying to the program or join our email list to get important updates.
Apply

Ready to apply? Visit our How to Apply page for application dates and step-by-step instructions.