Study the Latest Techniques for Preventing Crime and Providing Evidence
Cal State Fullerton offers a variety of crime and forensic certificate programs to enhance your current career or help you explore a new career path.
Private Investigation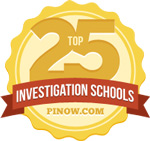 Cal State Fullerton has been chosen as having one of the Top 25 Private Investigation Training programs across the U.S. Every school across the country was reviewed and rated based on the type of curriculum, college accreditation, application requirements and license qualifications. Our program stood out among the top!
The certificate program is designed to meet the educational needs of individuals seeking to enter the field of private investigation, as well as providing professional development for current investigators who desire to improve their knowledge in the field and review the issues and latest techniques in investigative methodology. Private Investigators offer a myriad of services depending upon the needs of their clients including executive, corporate, and celebrity protection; pre-employment verification; and individual background profiling. They also provide assistance in civil liability and personal injury cases, insurance claims and fraud, child custody and protection cases, and premarital screening. Job opportunities will be sent to graduates of this program for one year.
Students with a minimum of three year's investigative experience may request to waive the Introduction to the Profession of Private Investigation class.
The Certificate in Private Investigation consists of five required courses totaling 60 hours of lecture and discussion
---
Computer Forensics

The Certificate in Computer Forensics I is appropriate for individuals who want to expand their expertise and learn the essential components intrinsic to the field of computer forensics. The core audience includes employees of both public and private corporations, government entities, and legal and law enforcement organizations.
These courses will give you the hands-on experience you need using EnCase, the industry standard in computer forensic investigation technology, and Forensic Toolkit (FTK), a suite of technologies used to perform forensic examinations of computer systems. You will also learn how to image different devices.
Class hours may be used to meet the Life Long Learning requirements specified by the AICPA for the new Certified Financial Forensics (CFF) credential.
The program includes five required courses totaling 92 hours of lecture and hands-on experience.
---
Crime & Intelligence Analysis

Participants in the Crime & Intelligence Analysis certificate program receive practical instruction in crime analysis, criminal investigative analysis, organized crime and intelligence analysis, law enforcement research and statistical methods. There are very specific instructions for eligibility and applying to this program. Please check the website for details.
Graduates will learn how to:
Identify and correctly define crime problems and patterns
Collect data, subject it to statistical tests, develop and test hypotheses
Conceptualize and convert raw data into valid criminal intelligence information
Create association matrices and prepare telephone toll analysis, hierarchical analysis, visual investigation analysis, link analysis, and financial analysis
Develop crime/suspect and suspect/crime correlations; develop target profile analysis
Articulate crime problems to individuals and groups through written reports, charts and graphs
There are eight required courses totaling 188 hours of lecture and discussion. Students need to complete all the required certificate classes, including the 400-hour Practicum in Crime and Intelligence Analysis, to be eligible for the certificate.
Upon completion of the program, graduates will receive a Cal State Fullerton certificate as well as a certificate from the California Department of Justice which designates them as a national certified Crime and Intelligence Analyst.
---
Geographic Information Systems (GIS)

GIS is a computer based methodology for collecting, analyzing, modeling, and presenting geographic data for a wide range of applications. The proliferation of desktop hardware and software has made these systems an important tool in our day-to-day lives. GIS information, data and the people trained in these methodologies and applications are becoming integral components in nearly every type of business and government service.
The GIS professional must be competent in integrating geography, data and systems to solve a wide range of problems for business, healthcare, insurance, law enforcement and other industries.
The Certificate in GIS is appropriate for students seeking specialized skills training. This includes individuals wanting to improve their knowledge in the field of geography databases, mapping and analysis. The audience would also include GIS professionals in healthcare, insurance, marketing, law enforcement, environmental fields and economic development.
The Certificate in Geographic Information Systems consists of four required courses totaling 84 hours of lecture and hands-on experience.
---
Testimonials
What our graduates have to say
"The UEE Computer Forensic Certificate is the best program I have ever participated in. The instructors are top notch and are able to speak with the authority of someone who has 'done it' thousands of times. Thank you to all who have contributed to my success. You are the best!"
Paul N. Curtis, Owner of Coast Digital Forensics
"Enrolling in this program was the best financial and educational decision I've made. After completing the program, I was offered a job at the company that created the EnCase software we used in class. I have since worked at the Riverside District Attorney's Office and am about to start a new venture with a major healthcare provider. Without this program, I have no doubt that it would have been a major struggle to get so far in this field. Three of my friends that completed this program and have also enjoyed success, and I have recommended it to four other friends."
Raul Mejias, Digital Forensic Investigator
"After I earned a BA in Criminal Justice from CSUF, I wanted to bolster my resume. After taking a class in Crime and Intelligence Analysis, I knew this was the profession for me. After completing the certificate, I was hired by the Riverside County Sheriff's Department Crime and Intelligence Analysis unit. Today, I manage that unit and teach in the UEE program. I love my job, the agency I work for, and the officers who put their life on the line for our safety. Crime and intelligence analysis is one of the most rewarding jobs, and I know that graduates of this program, who currently work in this profession, share my feelings."
Brian Gray, Crime & Intelligence Analysis Instructor,
Central Crime & Intelligence Analysis Unit Manager,
Riverside County Sheriff's Department
"I enrolled in the Certificate in Crime and Intelligence Analysis to prepare for a career in law enforcement. I enjoyed all the classes, especially the hands-on computer classes. Currently, I'm applying for crime analyst positions and I've had several interviews. And the interviewers are impressed that I earned a California Department of Justice Crime and Intelligence Analyst Certificate!"
Brandy Easley, Crime Analyst Intern, Fullerton Police Department
---
Resources