Five Questions
for a Digital Marketing Instructor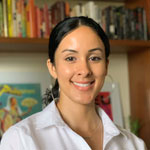 Christy Jeziorski, MA
Founder and Lead Strategist, Inity

---
What are some of the benefits of online learning?
Online learning is convenient and it allows you to work at your own pace. It's great for people who are already set in their careers and would like to take classes to expand their skills. Online learning also affords you the ability to take classes from afar that may not be available to you at a local institution.
What is one of your favorite courses/lectures in this Digital Marketing program?
Mobile Marketing course because it really speaks to the way people consume information in this day and age, and the course goes over strategies that are unique to the mobile space.
Is there anything else that students should know in order to be successful in the online classroom?
You have to be disciplined. Just because you can study from home (or a coffee shop!) doesn't mean it will be easier. Factor your online course into your schedule and do your best to stick to it! Also, do your best to connect with your "classmates" in the forums. Be a part of the discussion. They're there to help you through the process, and if you really think about it, they might be your target audience! Lastly, give the course your all. If you're enrolling in the program to master digital marketing, remember that you're taking your efforts into the real world. Put what you learned into practice during your courses.
How does a program like the Digital Marketing Certificate program prepare students for successful careers in this field?
What I've found from teaching numerous courses over the years is that the courses in the program demystify the digital marketing jargon and trends that, if you work in the professions, you'll be presented with more and more. It's a great foundation for learning the process of how things are done in the digital marketing space. You can enter into a job with the knowledge to build a solid digital marketing foundation for any company. All you have to add is your own creativity!
What are some common career paths for graduates? For example, what is a job title that someone might have once they finish the program.
Digital Marketing Strategist/Coordinator
Digital Media and Marketing Manager
Director of Marketing
Web Marketing Manager
Communications Manager
Mobile Marketing Manager
Manager, Digital Media
Director/Manager, Consumer Growth Marketing
Brand Marketing Manager/Director