Fullerton Campus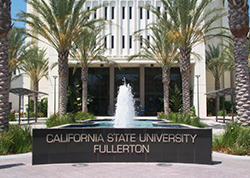 Fullerton Campus
The Fullerton campus offers students the experience of a large, dynamic and diverse university. Since its founding in 1959, Cal State Fullerton has grown from a small college to a leading regional university with more than 265,750 graduates (January 2018). The Cal State Fullerton campus is conveniently located off the Orange Freeway (57) at the Nutwood Avenue exit.
Campus Map
To find a classroom location or specific parking areas, review the campus map.
Virtual Tour
Visit the campus through photos: www.fullerton.edu/virtualtour
Parking
Being aware of CSUF parking regulations is the responsibility of the vehicle operator. Parking regulations in permit lots are enforced Monday - Thursday from 7 a.m. - 10 p.m., and on Friday from 7 a.m. - 5 p.m.
Daily or semester permits are required at all times except Friday after 5 p.m., Saturday and Sunday. The California Vehicle Code is enforced 24 hours a day, seven days a week. For more information and to purchase semester permits, visit the parking web site.
Daily permits:
Daily permits are $8. Extension and Open University students may purchase permits at daily permit machines in Lots A, E, G, S and Arts Drive, and levels 2, 4 and 6 of the State College parking structure. Daily permits are valid in all student lots (A, B, E, G, S and all parking structures) during enforcement hours. After 6 p.m., a daily permit is valid in faculty/staff lots C, E West, I, J and College Park faculty/staff. Note: Lots F and H are designated for faculty/staff parking during all enforcement hours.
Park and Pay:
Park and Pay is for short-term parking and users are required to pay in advance: $2 per hour, maximum 2 hours. Permits are not valid in Park and Pay. Hours: Monday - Thursday: 7 a.m. - 10 p.m.; Friday: 7 a.m. - 5 p.m. Park and Pay machines accept Discover, MasterCard, Visa, and $1 & $5 bills. Park and Pay Locations: Eastside Parking Structure (ground level, east entrance off Folino Drive); State College Structure (ground level, north entrance off Gym Drive); Nutwood Structure (northeast side of the ground level, access through the south entrance off Nutwood Avenue). More information on Park and here.
Bookstore:
Textbooks for classes offered at the Fullerton campus may be purchased on campus at the Titan Bookstore in the Commons Building, second floor. More information on textbook purchasing, renting, or returning can be found here.
Visitor Information Centers:
Campus guests can receive parking permits, parking assistance and directions at a Visitor Information Center (VIC). The Eastside VIC is located on Folino Drive, south of the Eastside Structure. The Arts Drive VIC is located on the west side of campus, on Arts Drive, by the main entrance to the Nutwood Structure. More information here.