Teacher Induction Program Application
Applying to the
Teacher Induction Program
is free and an easy, two-step process:
Step 1: Submit the online application below. Note that you will need to provide information about your upcoming teaching assignment for your first year in the Teacher Induction Program. You will also need to upload a copy of your preliminary Credential. You can download a PDF of this document after logging in to the California Commission on Teacher Credentialing website. Learn how to view and print your credential document here.
Step 2: Complete and email us additional application requirements. Requirements will include an Administrator Agreement Form that has been signed by your administrator and confirms your teaching contract for the first year in the program.
Review Process
We know you put a lot of time and effort into your application, and we want to give you an idea of what the next steps are in the application process. The review process varies based on when you submit the additional materials. The sooner we receive the materials, the sooner you will receive a decision.
The application window for the Teacher Induction Program is now closed. Applications for the Fall 2021 will open in mid-February for both the Traditional 2-year program and the Early Completion Option (ECO). Please review the FAQs for more information about these programs.
What's Your Next Step?
You can contact us with any questions or join our email list. By joining our email list, we will send you important program updates.
Contact Us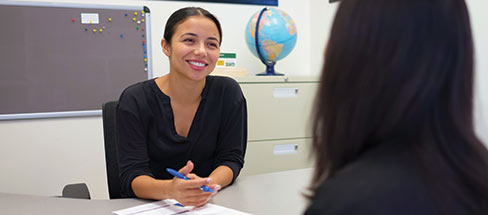 Send us any questions you have about the program or application and a staff member will get back to you soon.