Establishing International Partnerships
---
Cal State Fullerton is committed to promoting partnerships with international universities, colleges, governmental agencies and special organizations, to support the university's mission as a "regional university with a global outlook." Establishing meaningful partnerships must be mutually beneficial to both institutions and can be the conduit for the promotion of cultural appreciation and the increase in academic excellence.
Following CSUF procedures is crucial to ensuring the highest quality of the program as well as protecting the integrity of the University.
Options for Developing Partnerships
---
There are currently three options for establishing partnerships.
Our Senior Director Jack Hobson is happy to help you throughout any point of this process: jhobson@fullerton.edu.
Option 1: Exchange Agreements
Key Features: A formal agreement between the University and an international partner, this type of partnerships is the most formal and can take approximately two years to establish. It also requires several layers of sign off from department heads to the President of the university.
Option 2: Memorandum of Understanding/Letter of Intent
Key Features: An "MOU" or "LOI" are documents prepared by interested departments with partnering institutions that outline interests in developing formal agreements in the future. This agreement can outline the terms for establishment of the program, exchange of students, faculty and staff. Typical time commitment is six—eight months and does not require significant sign-off.
Option 3: Working with Third Party-Providers
Key Features: CSUF Faculty/Departments can choose to work with a third-party provider, which will lead the design and execution of the partnerships. With reduced formalities and institutional commitments, this process takes approximately six months and requires the least amount of time and effort of the three options.
Additional Information
---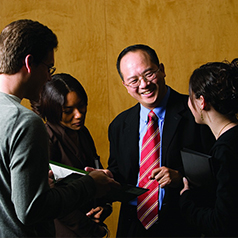 CSUF first signed an international partnership with Fudan University in China in 1984 and has since signed over 150 formal partnerships globally. From each partnership the University has found three factors essential to success, these are:
Strong advocacy by faculty or individual willing to serve as a "steward" of the partnership
Focused theme for the partnerships (i.e. leaders in international business, coastal ecological research)
Commitment of support for your program development, delivery and marketing by both institutions