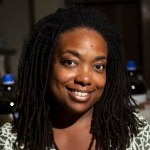 Dr. Antoinette Linton
Associate Professor, Department of Secondary Education
Faculty Coordinator for the Teacher Induction Program
California State University, Fullerton
22+ years of teaching experience
Dr. Antoinette Linton brings over 22 years of teaching experience to her role as the program coordinator for the Teacher Induction Program (TIP) at California State University, Fullerton. In this Q&A she writes about program benefits, the value of participating in a professional learning community and advice for incoming TIP students.
---
What are some of the highlights of the Teacher Induction Program?
Some of the highlights of the CSUF Teacher Induction Program include the mentor-based support for beginning teachers and the supportive climate created within the schools for teacher growth and development. We respect the time demands of new teachers and our online program allows new teachers flexibility and self-paced learning. Our modules are two weeks long so that teachers can better manage their time and think deeply about how they want to create healthy classrooms. Our candidates have more time to do the things they love as they engage in activities that aren't extra to their everyday duties as teachers but rather compliments to them.
What is the Early Completion Option and what are the advantages of the ECO program?
The Commission on Teacher Credentialing requires all induction programs to offer early completion to candidates who have extensive and exceptional teaching experience, but who haven't been able to clear their credentials. Our ECO program begins with a summer boot camp that includes a program overview, an introduction to teacher inquiry, and completion of the first-year teaching portfolio. Successful candidates then complete the second year of our program.
It is expected that experienced and exceptional teachers have less need for sustained and sequential professional development opportunities. Therefore, the program length is reduced. The major advantages of the Early Completion Option are reduced costs and time. However, candidates must be able to be ready to work. Candidates applying to the ECO are carefully evaluated to ensure they have the potential to be successful in this fast-paced one-year program.
How does this program help students balance their job as a teacher with program assignments?
The Teacher Induction Program is practice-oriented. Teachers engage in their instructional practices and reflect on their teaching. We support teachers to engage in reflective practices as they assess their teaching practice and self-identify ways to improve. We also organize our coursework into two-week modules, which allows new teachers to effectively manage their time.
What advice would you give to incoming program participants?
The advice I would give to new teachers is get into the habit of journaling about your experience so that you can keep track of your growth. I journal about my practice today and I have been teaching for 22 years. I often look back on my journals and teacher planners and see where I've come from and am humbled by how much I've grown. I'm also glad I kept my trade books. For example, I still use the textbooks I purchased when I was a new teacher. Books like Teaching special students, Culture in School Learning and Educational Psychology still are my go-to text when I'm planning and teaching my students.
How much interaction is there among program participants?
Our classes are organized as professional learning communities, where participants discuss, engage and learn together. We designate discussion board forums where you can exchange ideas and learn from one another.
The program allows teachers to find their voice and collaborate with one another. It is a wonderful way to discuss your efforts and find out what works. There are shared experiences and plenty of opportunities to discuss your teaching, learn new strategies, and reflect.