Ready to Apply?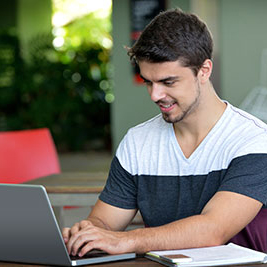 Over 90% acceptance rate!
The application process is easy, with no application fee and a high acceptance rate. Please see below for more information or click the button to start your application.
University Semester Abroad / How to Apply
How to Apply
If you recently scored at least a TOEFL 61 (500pBT) or IELTS 5.5 or PTE 43 or other comparable result in a test of English (such as the Cambridge Assessment or Duolingo), you may take up to 12 units* of undergraduate courses.
To take graduate courses (Master Level) you need to have a bachelor's degree, currently attend a graduate program at your home university, and must obtain a minimum TOEFL of 80 (550pBT) or IELTS 6.5 or PTE 58 or other comparable result in a test of English (such as the Cambridge Assessment).
MyBest™ Scores TOEFL reports are acceptable. Please submit an online inquiry form, if you have questions about this requirement or other acceptable tests.
*Spring and Fall only
It's easy to apply, just submit an online application and upload the following items:
Bank document or scholarship for at least $15,000. Bank document must show names and amounts in English.

Passport copy (information page and photo)

High school or university transcript

English proficiency test score*

Statement of purpose (Master Level only)
*English language requirement is waived for applicants educated in the following countries: Antigua & Barbuda, Australia, Bahamas, Belize, Bermuda, Botswana, Canada (no Quebec), Dominica, England, Fiji, Gambia, Ghana, Grand Cayman Islands, Grenada, Guyana, Ireland & Northern Ireland, Jamaica, Kenya, Lesotho, Liberia, New Zealand, Scotland, Sierra Leone, St. Christopher-Nevis, St. Kitt, St. Lucia, St. Vincent & Grenadines, Swaziland, Tanzania, Trinidad & Tobago, Uganda, Virgin Islands, Wales, Zambia, Zimbabwe.
Qualifying Health Insurance is mandatory for all F-1 and J-1 visa students. For more information, visit the Health Insurance page.