Ready to Apply?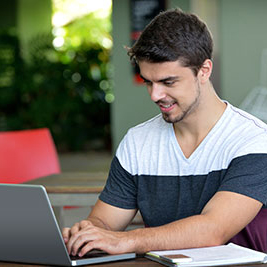 Over 90% acceptance rate!
The application process is easy, with no application fee and a high acceptance rate. Please see below for more information or click the button to start your application.
Online Application - Bachelor Level Online Application - Master Level
University Semester Abroad / How to Apply
How to Apply
If you recently scored at least a TOEFL 61 (500pBT) or IELTS 5.5 or PTE 43 or other comparable result in a test of English (such as the Cambridge Assessment or Duolingo), you may take up to 12 units* of undergraduate courses.
To take graduate courses (Master Level) you need to have a bachelor's degree, currently attend a graduate program at your home university, and must obtain a minimum TOEFL of 80 (550pBT) or IELTS 6.5 or PTE 58 or other comparable result in a test of English (such as the Cambridge Assessment).
MyBest™ Scores TOEFL reports are acceptable. Please submit an online inquiry form, if you have questions about this requirement or other acceptable tests.
*Spring and Fall only
It's easy to apply, just submit an online application and upload the following items:
Bank document or scholarship for at least $15,000. Bank document must show names and amounts in English.

Passport copy (information page and photo)

High school or university transcript

English proficiency test score*

Statement of purpose (Master Level only)
*English language requirement is waived for applicants educated in the following countries: Antigua & Barbuda, Australia, Bahamas, Belize, Bermuda, Botswana, Canada (no Quebec), Dominica, England, Fiji, Gambia, Ghana, Grand Cayman Islands, Grenada, Guyana, Ireland & Northern Ireland, Jamaica, Kenya, Lesotho, Liberia, New Zealand, Scotland, Sierra Leone, St. Christopher-Nevis, St. Kitt, St. Lucia, St. Vincent & Grenadines, Swaziland, Tanzania, Trinidad & Tobago, Uganda, Virgin Islands, Wales, Zambia, Zimbabwe.
Qualifying Health Insurance is mandatory for all F-1 and J-1 visa students. For more information, visit the Health Insurance page.
If a student withdraws from the session before the session start date, a full tuition refund, less a $255 administrative fee, will be issued upon approval of a written petition to the Program Director.

If a student withdraws after the first day or within the first 25% of a session, 65% of the session tuition, less a $255 administrative fee, will be refunded.

If a student withdraws after 25% of the session has elapsed, no refund will be given for withdrawal.

The application, health center and the non-curricular service fees are not refundable.
Note: The refund policy is subject to change at any time.
Requests for refunds are processed through the Extension and International Programs office. This process takes approximately six weeks. Allow up to six weeks for refunds via check. If you paid with a credit card, allow 7-10 days for your refund to be credited back to your credit card. Students who are dismissed from the program in mid-semester because of insufficient attendance or serious misconduct are not eligible to receive a refund.