University Semester Abroad / Program
University Semester Abroad Program
Study at Cal State Fullerton and Discover Southern California
---
Study With American Students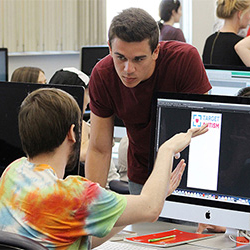 In addition to current undergraduate students, the USA program also welcomes Gap Year students like you, who are looking for a global education experience. Gap Year students have completed high school/secondary school but are not yet enrolled in a degree program at a college or university. Through the USA program, you can take classes on our campus in Southern California, where you will learn from experienced professors, study with American students, and enjoy other program benefits:
Over 100 majors and more than 3,400 university classes with transfer credit (you can search for classes through the University Catalog)
Thriving international community, with thousands of students from more than 80 countries
Safe, suburban campus close to beaches, hiking, theme parks—including Disneyland just minutes away
Social activities, academic workshops and over 300 on-campus clubs and organizations
Assistance from our International Students & Scholars office with housing, visa/travel issues and health insurance
Ready to get started?
Visit How to Apply for program requirements, application instructions or to get started: your application can be entirely completed and submitted online.
We are also happy to answer any questions. Send us a note and a staff member will get back to you as soon as possible.
Language Requirement
If you have met the TOEFL requirement or have received high scores on placement tests, you can apply for the USA program.
Planning your Experience
The USA program offers flexibility for studying at Cal State Fullerton: you come for a single semester, an academic year, or one of our summer options.
Spring/Fall Semesters: Both spring and fall semesters run for 16 weeks. The spring semester runs from January to May, and fall runs from August to December.
Summer Sessions: The USA program offers two 5-week sessions at Cal State Fullerton during the summer. Students can apply for either session, or both sessions for a 10-week experience at CSUF.
For exact dates and costs for upcoming terms, visit our Dates & Costs page.