University Semester Abroad / Transportation and Directions
Transportation and Directions
---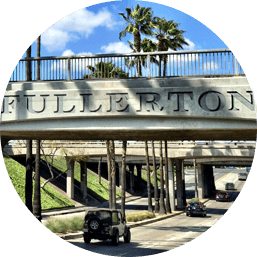 International Students & Scholars (ISS) recommends you travel from the airport directly to your hotel, homestay, dormitory or apartment—not to the ISS office. This way you can drop off your suitcases before coming to campus.
If you need a temporary place to stay when you arrive, please visit our list of Temporary Housing options.
Getting to Fullerton
You can use the Google Maps link for directions and travel time between Los Angeles International Airport and Fullerton, or the embedded map below:
Click "More options" on the map or our link for precise driving directions.
Airport Transportation
If you do not have a ride from the Los Angeles International Airport to Fullerton, you may consider the following options:
You do not need to make reservations for either of these services, though you can make reservations on their websites. After claiming your luggage, just step outside to a van stop to arrange the ride with a shuttle guest service representative.
You can pay for either shuttle service by credit card or cash. The cost to Fullerton should be between $38-$50. In the United States it is customary to tip the shuttle driver between $3—$7.
Note: California State University, Fullerton is not affiliated with and does not endorse any shuttle service.