Succeeding in an Online Business Administration Degree Program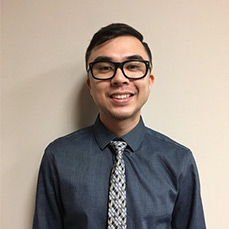 Michael Tran
BA in Business Administration Alum
"I was able to present the formulas and concepts I learned in the class to my fellow coworkers, as well as upper management. They applied it to the current and new spreadsheets, and my peers and the company were able to reduce labor time."
---
How did the CSUF Online Bachelor's in Business Administration program help your career?
My goal was to either move up with my current company, or seek a new firm to grow in. As I was applying for jobs, having the degree from Cal State Fullerton was a benefit, and made it easier to demonstrate my capabilities and get interviews.
How did the online, cohort format help you finish your bachelor's degree?
The online program worked well with my busy schedule. I was enrolled on campus, and decided that this program's online format worked better for me. I had time for all the activities of everyday life, like my career, family and errands.
How did the relationships with your business classmates help you during and after the online program?
I connected more with classmates in the online program than I did while I was on campus. We were encouraged to talk, and we did it often. The networking I made was invaluable, and it was through networking that I found my current position.
Were there any aspects of the online Business Administration program that were particularly helpful for your career development?
The "Business Modeling Using Spreadsheets" class was extremely helpful! In the insurance industry, spreadsheets are used often. I was able to present the formulas and concepts I learned in the class to my fellow coworkers, as well as upper management. They applied it to the current and new spreadsheets, and my peers and the company were able to reduce labor time.
What advice do you have for students entering the Online Bachelor's in Business Administration program?
Don't ever give up! We all have been in the same position one way or another. Keep moving forward, ask lots of questions and stay on top of things.
What's your next step?
Book an advising appointment to learn more or join our email list to get important updates.
Book Advising

Book an appointment with Professional Business Online Student Advisor Dereck Zara. He can talk with you in person, by phone or online.