Admission Requirements
To be considered for admission to the Online BA in Business Administration degree-completion program, students must have completed a minimum of:

60

*

transferable semester units from one or more community colleges or other accredited institutions

(including 30 semester units (45 quarter units) in CSU-approved general education (GE) coursework)

completed two semesters prior to transfer.




A 2.50 cumulative grade point average. Returning CSUF students must have a 2.0 grade point average.


Good academic standing at the last college or university attended.


The "Golden Four" general education requirements with a grade of C- or higher two semesters prior to transfer:
A.1 - Oral
Communication
A.2 - Written Communication
A.3 - Critical
Thinking
B.4 - Mathematics
/Quantitative Reasoning
At least four

*

of the seven lower-division business core courses with a grade of C or higher, two of which must be Business Writing and Business Calculus. The lower-division business core courses are:
BUAD 201 - Business Writing
MATH 135 - Business Calculus
MGMT 246 - Business and Its Legal Environment
ACCT 201A - Financial Accounting
ACCT 201B - Managerial Accounting
ECON 201 - Principles of Microeconomics
ECON 202 - Principles of Macroeconomics
The required transfer coursework can also be achieved by earning an Associate Degree for Transfer (ADT) in Business Administration from a California Community College.
* The degree-completion program is comprised of 54 upper-division semester units (18 courses). CSUF requires a minimum of 120 units to be eligible for graduation. Therefore, to earn the degree, students must transfer 66 units and complete any outstanding lower-division general education and business core courses at another institution. For a complete list of graduation requirements, please consult the University Catalog.
To see if courses from your community college will transfer to Cal State Fullerton, you can use ASSIST, a database that houses the transfer agreements between all California community colleges and California public universities. Contact the advising and counseling center at your college for assistance.


If you are not a California resident, please view the state regulations page
to verify your eligibility for enrollment. You may also contact the advising and counseling center at your community college for assistance.
---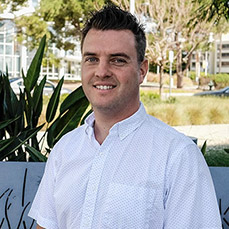 "I apply everything that I learned in class to my job, and it really helped me understand what I did right and what I did wrong."
- David Holder, BABA alum
What's your next step?
Review our program fees to learn more or join our email list to get important updates.
Program Fees

Our program is an affordable, convenient way to finish your degree. Learn more about tuition rate and financial aid options.