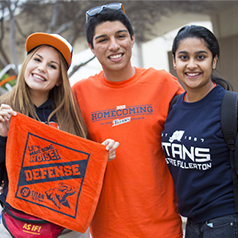 New Students / Graduate Students
New International Degree-Seeking Students
The checklist below is for new international students who will begin their first semester at Cal State Fullerton: freshmen, transferring undergraduate students, graduate students, credential or certificate program students. Bookmark this page and visit often to successfully prepare for your first semester at CSUF.
Pre-Semester Start Checklist
Reporting to School: Mandatory New Student Check-in and Workshop
You must complete the New Student Check-in and attend the New Student Workshop as part of your requirement as an international student to report to California State University Fullerton. Failure to do the Check-in and attend the Workshop can negatively impact your F-1 or J-1 status.
New Student Check-In: Deadline First Friday of First Semester
Virtual New International Student Workshop: Friday before Semester Begins; check your CSUF email for details.