Employment / Academic Training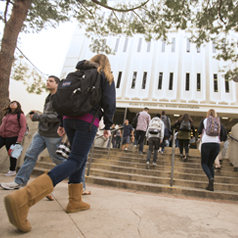 Academic Training
J-1 Academic Training
Overview
J-1 students may apply for a work permit called "Academic Training" in order to receive training related to their field of study. Academic training may be either paid or unpaid, part-time or full-time, with one or more employers, to supplement students' academic program in the U.S. The purpose of the academic training is experiential learning. J-1 students' Program Sponsor (institution that provides Form DS-2019) is responsible for granting Academic Training and is subject to current requirements and restrictions of the J Exchange Visitor Program. Students sponsored by Cal State Fullerton must submit their Academic Training Request Packet to the International Students & Scholars Office. Students who are sponsored by other institutions (for example, Fulbright) must contact their Program Sponsor regarding Academic Training eligibility and procedures.
Eligibility
Student's primary purpose in the U.S. is to study rather than engage in academic training

Student must be in good academic standing (minimum GPA of 2.0 for undergraduates and non-degree; minimum GPA of 3.0 for graduate students) and good student conduct record.

Student must be maintaining J-1 status.

Academic Training must be directly related to student's field of study on Form DS-2019.

For Academic Training before completion of studies, student must enroll in appropriate internship course and receive academic credit.

Student must submit a complete Academic Training Request packet which includes job offer letter from employer.

If applying for Academic Training after completion of studies, then the following requirements apply:

Student must also submit proof of funds for self and J-2 dependents, if any (minimum of $1500/month for student; $500/month for dependent) to cover the entire duration of the Academic Training period requested.

Academic Training must begin no later than 30 days after completion of CSUF studies.
Health Insurance Requirements
Federal regulations require that all J-1 students and their J-2 dependents carry health insurance at all times, including during Academic Training. CSUF J-1 students and their J-2 dependents are required to purchase the CSUF health insurance to meet this requirement.