Study Abroad Team
Behind every great journey is a great guide
About
Mission
---
The Study Abroad & Global Engagement (SAGE) Office strives to connect the diverse community of students, faculty, and staff at CSUF with global opportunities that enrich their academic and professional lives by driving personal development and transformation. Through globally focused, accessible, and high-quality learning opportunities and activities, the SAGE team seeks to foster the concept of "possibility" among all CSUF students. Our dedication to global learning in all forms – virtual, study abroad, or study away – reflects our commitment to the evolving needs of our campus community while assuring our Titans possess competencies that lead to success in our increasingly small global community.
Our Team
What are the most important factors to consider when choosing a program?
A: Think about how this experience will fit in with the future "you" that is being developed — personally and professionally. Geographic and academic diversity will make your study abroad experience stand out.
How can I get the most out of my study abroad experience?
A: Find a program that allows you to connect with the location and local folks of your host country as much as possible. Once you've found that program, disconnect as much as possible from "home" and allow yourself to be transformed. Make friends abroad; you'll have them for the rest of your life.
How has the experience of studying abroad helped in your education and career?
A: It has been everything to my career. I cannot imagine what path my life would have taken had I not had the opportunity to study abroad. Instead of thinking of it as a once-in-a-lifetime chance, I realized it was the first of hundreds of opportunities to see the world and travel.
Can you share a memorable experience from your studies abroad?
A: The moment I arrived in Istanbul, Turkey, I found a city so rich in history, sound and sight that it would forever captivate me. The mixture of European and Islamic architecture is woven together in a mix that's also represented in Turkish culture, music, art and cuisine. So much of human history has passed through the city, and I found myself connecting my own history to this location. It is one of the grand cities of the world.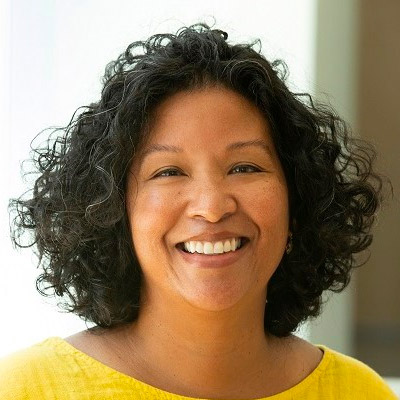 Shari Merrill
Study Abroad & global engagement Associate Director
Advises current CSUF students and alumni about Fulbright and Boren U.S. Student Program Opportunities. Provides advising support for the Gilman Scholarship and Critical Language Scholarship (CSL). Collaborates with and supports faculty and staff on various program and engagement opportunities, including department-led programs (both travel and virtual mobility) and collaborative online international learning projects or COIL. Supports institutional relations management with educational partners and institutions.
Countries visited: Belgium, China and Hong Kong, Cuba, Cyprus, Denmark, England, France, Germany, Ireland, Italy, Mexico, The Netherlands, Norway, Spain, Sweden.
What are the most important factors to consider when choosing a program?
A: I think it's most important to consider why you are going abroad. What are you trying to accomplish with this important choice? The answer to this question should be well thought-out and involve serious examination of your academic, professional and personal goals and interests. After you've thought through some of your ideas, narrowing down ideal program choices becomes a much easier task. It's also important to take finance into consideration; while I don't think program cost should be the number one factor in a student's program decision, understanding your finances and additional funding opportunities will nevertheless factor into your ultimate choice. Ask us about financial aid and scholarship opportunities; there are so many!
How can I get the most out of my study abroad experience?
A: I studied abroad four times while I was a student: for a semester, a "May-mester," a summer and on a short-term, faculty-led program; I've also lived and worked abroad. Each time, I learned more about how to "be abroad" better. It's not an exact science, but being intentional and open about what is to come will help you along the way. Try to engage with your surroundings, your classmates and homestay family, everyday errands and activities. Take advantage of support systems provided by your program that are meant to connect you with your local community. Recognize that each person experiences some degree of cultural adjustment – rarely are there exceptions; be informed about and prepared for this experience, so that you have some strategies to help you through the adjustments you'll be making as you grow and develop in your new environment. Be flexible; while I advise that students should be intentional in their approach to studying abroad, you also should remain open to new things, which are often unplanned and require a certain amount of flexibility, curiosity and patience on your part. Finally, if you have the option, choose to spend your money on experiences rather than things.
How has the experience of studying abroad helped in your education and career?
A: As an undergrad, I majored in romance languages, and studying abroad in both Spain and France helped my language development, but also provided better insight into the people who speak these languages. I realized that language, for me, was more about the connections it allowed me to make with others. This motivated me later to pursue graduate studies in linguistics, so that I could understand more about language in general, its commonalities across all peoples and its power to drive communication and understanding. I continued to study abroad through my Master's program, in Mexico and Spain, and obtained my first job in the study abroad field as a graduate student. This is where my love of international education transformed into career aspirations that would motivate me to this day. Since that time, I have worked in TESOL and international non-profit, but my journey led me back to study abroad, where I work every day to connect students with the type of transformational, international opportunities that have benefited and guided me over the past 16 years. Study abroad helped me to grow as a person and articulate my "value added," a cumulative result of skills and qualities developed over time, to employers. I want our students to not only have a similar study abroad experience but also be able to explain to potential employers why that experience is important and sets them apart.
Can you share a memorable experience from your studies abroad?
A: My first study abroad program in Granada, Spain had ended, and I was doing some independent travel on my own. I arrived on an overnight train to Venice, Italy for a three-day visit. After some brief exploration, I learned that there would be a train strike in the next couple of days, which meant I would have to leave Venice that same day, or risk missing my connection back to Spain, and ultimately my flight home to the U.S!
I was a sorry sight: disappointed and exhausted, walking around Venice in the noon heat, with my heavy backpack, clutching a lukewarm soda. A host standing at one of the many restaurants lining the busy pedestrian street noticed my moping. He motioned me over, guided me to a seat on his patio under an umbrella, and pried the soda can from my hand. He returned a few minutes later with a generous glass of red wine and a large book filled with beautiful pictures from all over Italy. He said one word before he left the table: "Rest." I was so thankful for this man's simple gesture of kindness. As I looked through the book and sipped my wine, I noticed the many signatures and notes from people who had read the book before me.
By the time I had finished my wine and signed the book myself, I had also rearranged my perspective on my situation. I reminded myself that life will not always go as planned and that I needed to find a way to make the best of any circumstance. I understood that there is always kindness, many times, when you least expect it, and that I could also strive to demonstrate this kind of compassion in my own life and actions. I decided that the train strike presented an opportunity to explore another city before going home; I had a Eurail Pass after all. I settled on Nice, France, not realizing at the time that this last minute, forced schedule change would lead to my return there the following year for my second study abroad experience.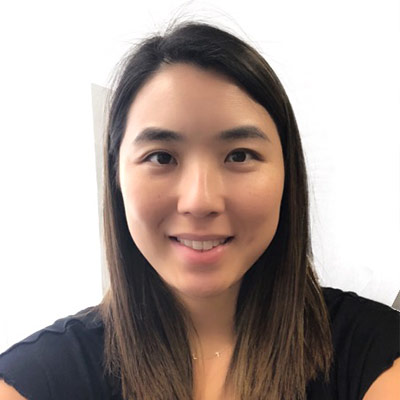 Juim Kim
STUDY ABROAD & GLOBAL ENGAGEMENT (inBOUND) ADVISOR
Global Partnerships and Programs officer
Advises visiting international students who are part of the University Semester Abroad (USA) and Reciprocal Exchange Program. Handles the application, admission, and enrollment phases for the USA Program. Serves as the lead contact for Global Partnerships and Programs which includes Agents, Exchange Partners, and Campus Partners. Manages the Global Titans Buddy Program where visiting international students are paired with a CSUF domestic student every semester.
Countries visited: 20, including extensive travel throughout Europe and Asia
What are the most important factors to consider when choosing a program?
A: There are three considerations to think about when choosing a program: academics, financial and personal preference.
How can I get the most out of my study abroad experience?
A: Study abroad is a once-in-a-lifetime opportunity, so immerse yourself in the culture and get involved, whether it's volunteering, an internship, an extracurricular sport, attending church, etc. Try to limit your communication with people back home; spend more time exploring and learning about your host culture and connecting with locals. Never stop exploring, be open-minded and embrace your experiences.
How has the experience of studying abroad helped in your education and career?
A: Many employers are looking for individuals with international experience, which shows cultural awareness and an ability to work effectively with people from different backgrounds. Studying abroad also sets one apart because it shows the drive to try new things and confidence to experience them. I had the chance to study abroad three times and got my master's abroad, which led to the career path I'm on today.
Can you share a memorable experience from your studies abroad?
A: My professor during graduate school invited me to attend the eighth anniversary of Korea's former president Kim Dae-Jung's Nobel Peace Prize, which was an exclusive event. I got to participate during the event and address questions to the panel in front of 1,000 people and the media. I was even introduced to the president and got to shake his hand. This event happened during finals week and I was a bit worried at first because it took time away from studying, but it's experiences like this that I cherish and remember to this day and not my final exam papers.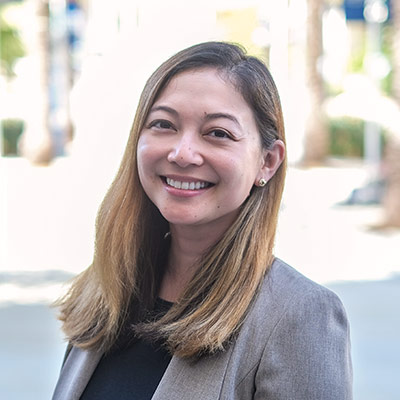 Aileen Vickory
Study Abroad & GLOBAL ENGAGEMENT (OUTBOUND) advisor
Advises current and prospective CSUF students wanting to participate on study abroad and global engagement programs and opportunities.
Countries visited: UK (England & Scotland), France, Italy, Spain, Denmark, Hungary, Slovakia, Belgium, Netherlands, Germany, Czech Republic, Japan, Thailand, Cambodia, Vietnam, South Korea, Egypt, El Salvador, Mexico, India
What are the most important factors to consider when choosing a program?
A: I think the student's goal(s) help frame the process. Factors that I will discuss with a student when choosing a program or location include academics (What do you want to study, and where is the best location to study it?), career aspirations (Do we have any programs in countries or cities that are known for that field or industry?), destination (Is there any specific location you would like to go to for any reason: interest, family, etc.), and so on.
How can I get the most out of my study abroad experience?
A: Be intentional, open-minded and wary of expectations. First, pursue your study abroad goals with purpose and you are more likely to have a very fruitful experience. Second, sometimes, students can be fixated on one concept or idea, when there may be better options. Goals are a good start, but exploring various options is also important. Third, with expectations, I have always had the best experiences because I was never expecting anything. I think that comes with having an open mind and heart, and letting things unfold naturally on their own.
How has the experience of studying abroad helped in your education and career?
A: Studying abroad is life changing from start to finish. From my experience, the path to studying abroad took maturity, responsibility, organization, flexibility, and adaptability. If I did not have those traits well-developed at the beginning, I definitely developed it along the way. When I returned from studying abroad, I had better cross-communication skills, multicultural competency, problem-solving skills, language skills, and confidence. Much of who I am today as a person and a professional is because of my study abroad experience.
Can you share a memorable experience from your studies abroad?
A: I studied abroad when I was an undergraduate student, and my major was English Education with an emphasis in Theater Arts. One of the courses that I needed for my major was Shakespeare. I planned it so that I could take it abroad while studying in London. Not only did I get to study Shakespeare's work in England for credit towards my degree, but I got to visit Stratford upon Avon (Shakespeare's hometown and burial site), watch his plays at The Globe Theater, and even stand on the stage of The Globe, which was really cool. What I loved about my study abroad experience was being able to take my learning outside of the classroom.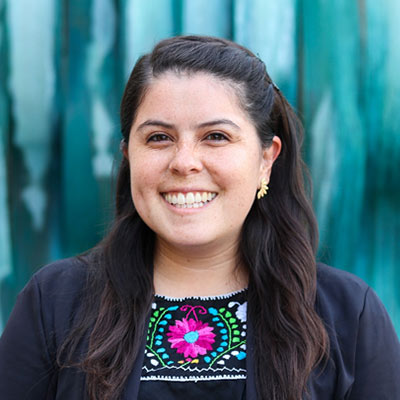 Abigail Segura
Study Abroad Programs Lead
Collaborates with and supports faculty, staff, and students on department led programs (both travel and virtual mobility).
Countries visited: Mexico, Thailand, China and Hong Kong, New Zealand, Germany, Greece, France, Spain, Italy, Cuba, and the Dominican Republic
What are the most important factors to consider when choosing a program?
A: Look for programs that focus on your professional and personal interests. Do not get stuck on a certain location! Be open to visiting countries you had never considered. Time is an important factor as well. The sooner you begin to plan, the better prepared you will be for handling the application process, finances, academics, amongst personal life commitments.
How can I get the most out of my study abroad experience?
A: Be flexible! Take every challenge as an opportunity to learn and grow. Bring your experiences back home! Whether it's to your family and friends, share your knowledge with others on campus via Peer Mentor programs, or just casually amongst classmates. This will help you reflect on your experiences abroad and how they have contributed to your development.
How has the experience of studying abroad helped in your education and career?
A: Studying abroad has been key in my development as a person and professional. It prepared me to always be ready for the unexpected and taught me the importance of being flexible. I would not be in my current role if it had not been for my experiences abroad. My first study abroad program led me to a leadership opportunity as an undergraduate student, it gave me the chance to participate in research, which sparked my interest in grad school, this eventually led me to a Masters Program, and now here as part of the Study Abroad Team. It gave me the confidence I needed in order to get involved in opportunities that I would have never seen myself participate in.
Can you share a memorable experience from your studies abroad?
A: It was my first year at CSUF as a transfer student, I learned about the opportunity to go to Thailand and I clearly remember being so proud of myself for going through with the application process. Then feeling very nervous when it came time to explain to my parents what this experience meant to me. This was my first time over seas so every single thing was a treasured experience. In Thailand I took photos of everything! I woke up every day feeling super energized! I was so excited to learn about their rich culture and I never expected that so many things would remind me of my Mexican heritage. I returned home much more aware of my personal identity and values. At the end of the program I recall feeling very satisfied, full, and motivated to not only continue exploring the world but also to further develop myself as a person, professional, and student.
Need more?
Our Study Abroad advisors are always ready to meet with you to help you learn more about any and all aspects of the Study Abroad experience. To schedule an appointment or learn more about walk-in advising, please visit our Advising page.