Costs
Create a priceless experience on any budget
Costs
Studying abroad can be a life-changing experience, but many students don't realize that it can also be an incredible value. In fact, the cost for many study abroad programs is comparable to what it costs to study on campus.
Thanks to our extensive database of programs
, it's easier than ever to find an unforgettable study abroad experience that also fits your budget. You can search based on a number of factors that will help you target a program including:
Country: Some countries/cities are more affordable than others
Length of study: Shorter programs offered during Summer/Intersession may offer less of a financial commitment
Housing options: The cost of where you live can be one of the biggest variables in selecting a study abroad experience
In addition, there are a number of scholarships available, both through campus and the Study Abroad & Global Engagement office, and you can also use your financial aid to pay for certain programs. For more information, please visit our Financial Aid page.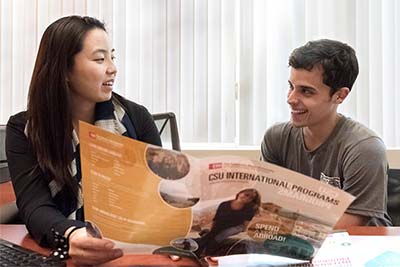 Advising
No matter where you are in the Study Abroad process, our advisors are always here to help you create an ideal Study Abroad experience that will align with both your personal and academic goals. To schedule an appointment or learn more about walk-in advising, please visit our Contact page.