Study Abroad Fair
CSUF Titan Walk on Thursday, February 7, 2019 (11 a.m.–3 p.m.)
Study Abroad Fair
Come down to the Study Abroad Fair and get inspired to plan your study abroad experience! Contrary to common belief, study abroad can be the right option for all students and we will work with you to make sure your experience fulfills both your academic and personal goals.
What can I do at the fair?
The Study Abroad Fair provides the perfect opportunity for all CSUF students to do one or all of the following:
Speak to Study Abroad Advisors and program representatives
Learn about the diverse program options – and financial assistance opportunities – available to you
Talk to Study Abroad alumni and international students currently on exchange from CSUF partner universities
View pictures of where you could be studying and living
Whether you are planning to study abroad in 2020, 2021 or even 2022, come to the fair and start to explore your options. See you at the Titan Walk!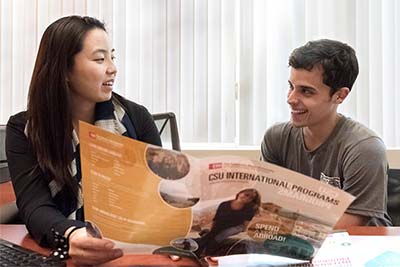 Advising
No matter where you are in the Study Abroad process, our advisors are always here to help you create an ideal Study Abroad experience that will align with both your personal and academic goals. To schedule an appointment or learn more about walk-in advising, please visit our Contact page.